Get excited, because hard rock band God Damn are about to hit the stage once again! They will be joining the amazing line up for CLUB.THE.MAMMOTH. taking place at Brixton Jamm in London on Thursday 9th of March 2017.
God Damn tickets can be bought through Gigantic. Always book early or risk missing out!
God Damn are made up of guitarist Thom Edward and Ash Weaver on drums. Their stripped down approach means the band can get on with the business of bringing the best bludgeoning rock without anything getting in the way.
Their torrential use of distortion does nothing to disrupt their talent for real melody. They may be mean and heavy, but they're music still holds to an intelligence that escapes many other of their peers.
Calling from Wolverhampton, the band were originally a three piece upon their inception in 2010 which included bassist Dave Copson who left due to injuries in the summer of 2013.
Although they number few, Edward and Weaver are keen to stress that they are a band rather than a duo or two piece. Eager to convey that there is no limit on their ability or scope as they continue to surpass others in the field.
In 2014 the band singed to the label One Little Indian and released the album Vultures the following year. The relentless low end rock has excited many and set the tongues of the music press ablaze, rewarding the band with great praise. The album features the overdriven blues anthem Silver Spooned, the unsettling barrage of We Don't Like You and the all-out assault of Skeletons.
"
Rock music for degenerates… the sound of the Pixies, Bleach-era Nirvana and The Melvins all echo through their 'I'm A Lazer. You're a Radar' EP
" -
NME
"
A great collection of lunacy.
" -
Louder Than War
(Band of the day)
"'
I'm a Lazer, You're a Radar' is a rip-rollicking thrash, brutally mixing grunge and the regions finest export, heavy metal.
" -
NME
"
A heads-down, hair-in-your-eyes, twat-your-instruments-as-hard-as-humanly-possible riff riot.
" -
The Guardian
"
There's sweat stains happening after that, that was one intense record.
" -
Phil Taggart, Radio 1 New Music Show
"
A frenetic, fuzzy progression, a sludgy half-time breakdown, crushing fills and a band destroying all of their equipment in an appropriately shaky video.
" -
Artrocker
"
Crashing out of Wolverhampton come GOD DAMN, a three-piece of spitting fury and angry noise with more energy than the Hadron Collider.
" -
Loud Horizon
Get your God Damn gig tickets right now! Gigantic always have a huge range of essential concert tickets to stick with us for the very best experience!
---
Related News
Buy Tickets With Confidence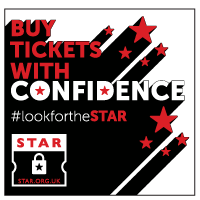 Gigantic are a primary ticket agent and full members of STAR (Secure Tickets from Authorised Retailers)
More info