Energetic, post-punk, hardcore alternative electrorock â€" just some of the phrases used to describe Enter Shikari, a vivacious and non-stop band from that bastion of hardcore bands, Hertfordshire. Pounding Drum&Bass underlies thrashing guitars and powerful vocals to create a tour de force that blasts away the competition on stage. Enter Shikari tour dates are guaranteed to be popular, and in fact some are sold out already. Fortunately, at Gigantic we still have a selection of Enter Shikari concert tickets on offer, but move quickly because these will not be around for long.
The band are playing a short tour of the UK next year, and although the July 2015 appearance at Motion in Bristol is sold out, dates are still available for their Mindsweep tour in February. They include the Capital FM Arena in Nottingham on February 20th, Bournemouth International Centre on February 22nd, Cardiff Motorpoint Arena on the 23rd, and the Victoria Warehouse in Manchester on the 25th. Things finish off back in London on the 27th at the iconic 'Ally Pally', Alexandra Palace.
Enter Shikari need big venues because they produce a big, big sound. The power of an Enter Shikari gig will blast you backwards, but this isn't simply a 'wall of sound' coming at you, but structured, intelligent songs played by accomplished musicians. The fusion of electronic music and old-fashioned guitars works perfectly with no compromise on either side. Normally, this would result in an unlistenable cacophony, but Enter Shikari manage to blend the results perfectly.
A total of four potent albums, including the new 'Mindsweep' release, has garnered the band a clutch of awards and nominations, including a veritable cabinet's worth of Kerrang! awards, and the prestigious John Peel Award for Musical Innovation at the NME Awards in 2007. This is a band with gusto, energy, and a bucket-load of talent too. They're also astute businessmen, managing their own label Ambush Reality.
Politics plays a big role in their lyrics, but these aren't simply fist-waving anarchists â€" these are proper musicians using their skills to comment on social issues as well as ever-popular themes such as love and loss. The result is that over the last 12 years they've built up a solid fan base and Enter Shikari tickets for their gigs are highly sought after. If you want to experience a clever, thoughtful and musically skilled band, grab your tickets from Gigantic now.
---
Buy Tickets With Confidence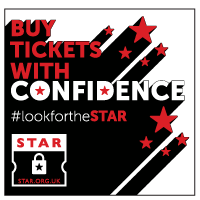 Gigantic are a primary ticket agent and full members of STAR (Secure Tickets from Authorised Retailers)
More info