Proving that the Netherlands export more high quality products than just tulips and cheese, Delain have been a potent force on the metal scene since 2002. UK fans will soon get a chance to experience their invigorating brand of symphonic metal in its natural environment - a live venue - as they visit four venues across the country in October. You can snap up Delain tickets right here on Gigantic.
On October 22nd, fans in the southwest will be able to get their devil horns on the go at the Marble Factory in Bristol. The day after that the band head to the Midlands, spiritual home of British metal, for a gig at Birmingham's The Library at the Institute venue. Then it's up to Manchester on the 24th, where you can get your mosh on at the Academy 2, before the band finish up the UK portion of their tour at London's O2 Academy Islington on October 25th.
Delain formed in 2002, and have often been compared to their compatriots and fellow symphonic metallers Within Temptation. These similarities in style are easily explained by the fact that Delain founder member Martijn Westerholt was the band's original keyboardist, and is the brother of Within Temptation guitarist Robert Westerholt. Since splitting from the band due to a prolonged bout of illness in 2001 though, Westerholt has forged ahead and created a distinctive contribution to the sympth-metal genre.
Although he originally intended the band to be a side-project bringing together lots of guest musicians, with the addition of singer Charlotte Wessels to the line-up in 2005 a new permanent force in Dutch metal was born. Since then Delain have gone from strength to strength, with 2006's debut, Lucidity, proving a hit with fans and critics. This was followed up by 2009's April Rain and a number of personnel changes within the band, and then 2013's triumphant release of We Are The Others.
At these upcoming Delain tour dates, expect to hear plenty of classic tracks from these albums, as well as plenty from their most recent album, The Human Contradiction. While there are only a limited number of Delain concerts taking place in the UK, with them being positioned around the country, all fans should have a decent chance of seeing them. Grab your Delain tickets today right here on Gigantic.
In November, fans will be able to get their devil horns on the go at the O2 Institute2 Birmingham, the city which is the spiritual home of British metal, before moving on to O2 Manchester Ritz and KOKO in London. You can get your mosh on at Norwich Waterfront before the band move on to Engine Rooms in Southampton and Tramshed in Cardiff.
Always book your concert tickets will in advance to avoid disappointment.
---
Buy Tickets With Confidence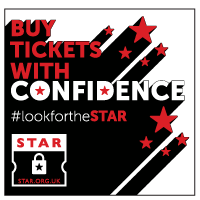 Gigantic are a primary ticket agent and full members of STAR (Secure Tickets from Authorised Retailers)
More info