Christine and the Queens is the exciting new sound in electronica that is currently bursting form the underground and winning fans worldwide.
"
A perfect antidote to pop conservatism
" -
The Guardian
"
A truly enjoyable record
" -
The Line of Best Fit
"
Searching for her place in this decade's pantheon of fabulous poly-musical femmes
" -
MOJO
"
Shimmering synth-pop meets sexual politics
" -
Q
"
Joyously immediate pop music with endless facets
" -
DIY
"
Stylish and empathetic
" -
The Observer
Nantes-born Héloïse Letissier is the fresh new talent behind Christine and the Queens. The French singer studied theatre in Paris before moving to London where she was quickly seduced by the rich cultural landscape of Soho. Immersed in an exciting world of art and drama against a backdrop of dramatic disparity, she mingled with the drag queens of Madame JoJo's and began to soak up the influences which would shape her upcoming work.
In 2011 she released a sequence of three stunning EPs Miséricorde, Mac Abbey and Nuit 17 à 52 which garnished great praise and announced the creation of a new and utterly innovative pop sensation which is fresh, exciting and unlike anything else.
Her debut album Chaleur Humaine was originally released in her native France during 2014. Produced by Ash Workman (Metronomy) and featuring the work of multi-instrumentalist wonder brothers Michael Lovett and Gabriel Stebbing, the record would be certified five times Platinum and see her crowned as Artist Of The Year at the Victoires de la Musique.
After playing a number of high profile European dates, stealing the show at SWSX and playing alongside pop icon Madonna, Letissier was perfectly set for world domination releasing an eponymously titled EP in the UK.
The debut album Chaleur Humaine has now also been brought out in the UK after being reworked in English. The re-release of the record was preceded by a gloriously perfect set at Glastonbury Festival which, for many British listener, was the perfect was to be introduced to Letissier and her work. The album shot straight into #6 upon its release in the UK and currently continues to chart.
Christine and the Queens tickets will soon be available online. Be sure to set a personal reminder through Gigantic.com to be ready for when the concert tickets go on sale at 10:00 on Friday 15th of July.
The synthpop spectale will be performing at the incredible venue O2 Academy Brixton on Wednesday 2nd of November.
As gig tickets are in limited supply we really do urge you book for Christine and the Queens early to avoid disappointment.
---
Buy Tickets With Confidence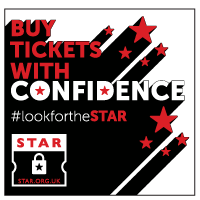 Gigantic are a primary ticket agent and full members of STAR (Secure Tickets from Authorised Retailers)
More info