American singer and global phenomenon Britney Spears is one of the bestselling female artists to date, selling in excess of 100 million albums worldwide. Throughout her long-standing career, she has become a household name in the mainstream pop music industry and has accumulated a mass international fanbase.
In 1999, Spears released her first studio album 'Baby One More Time', topping the charts in 15 different countries and propelling her into superstardom. Her title track sold 500, 000 copies on the first day of its release and has since been named one of the bestselling singles of all time. The remarkable success of the album spurred a headlining US Britney Spears tour later that year, which received glowing critical reviews.
By the time she released her follow-up album 'Oops!...I Did It Again', Spears had officially established herself as a cultural pop icon. Her second record garnered her further international success and has sold approximately 25 millions copies to date.
Since her initial rise to fame in the late 1990s, the singer has released several hugely successful number one albums and amassed a collection of smash-hit songs, including 'I'm a Slave 4 U', 'Womanizer', '3' and 'Hold it Against Me' to name a few. As well as being an influential recording artist, Spears is also a proficient songwriter and has written and produced many of her own singles, including 'Everytime', 'Me Against the Music' - featuring Madonna - and the chart-topping song 'Toxic'.
In recognition of her impact on the popular music scene, she has been awarded an array of accolades for her work, including six MTV Video Music Awards, nine Billboard Music Awards, a Grammy and a Lifetime Achievement Award.
Britney Spears concerts are nothing short of spectacular. With her unmistakable voice, polished choreography and and awe-inspiring stage productions, this is a lady who certainly knows how to keep an audience entertained. If you get the chance to see Britney Spears live, you can expect a captivating mix of upbeat dance/electro pop songs and smooth ballads, not to mention a host of visually striking stage effects and elaborate costumes.
If you're on the lookout for genuine Britney Spears tickets from a ticket provider you can trust, keep an eye out on this web page for future tour dates.
---
Buy Tickets With Confidence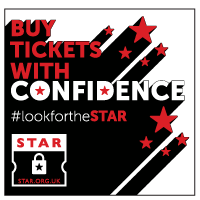 Gigantic are a primary ticket agent and full members of STAR (Secure Tickets from Authorised Retailers)
More info