Black Stone Cherry are an exciting mix of southern style rock with heavy grunge overtones. Having just released their sixth studio album Kentucky, they are ready to return to the UK to promote the new release with further incredible live shows.
The hard rock band consists of drummer John Fred Young, rhythm guitarist Ben Wells, lead guitarist and vocalist Chris Robertson with Jon Lawhon on bass.
Having first started the band as teens, the band truly first started in 2001 with the members now making a concerted effort including the release of their first demo CD entitled Rock N' Roll Tape.
In 2006 they self-released their eponymously titled debut album Black Stone Cherry. Upon completion of the recording they were invited to perform at a homecoming gig held by their former school principle which was attending by 1,500 local well-wishers. The record has now sold in excess of 110,000 copies.
The band have continued to grow seeing second album Folklore And Superstition rise to #23 in the UK Charts after its release in 2008. 2011 album Between The Devil And The Deep Blue Sea hit #13 and 2014 release Magic Mountain smashed in at #5.
Black Stone Cherry tickets will soon become available. Set your very own personal reminder via text or email through Gigantic so you are ready for their release at 10:00 on Friday 29th of July.
Touring extensively, the band begins their performances during November at St David's Hall in Cardiff, Portsmouth Guildhall, Civic Hall in Wolverhampton, O2 Apollo Manchester, Newcastle City Hall, Sheffield City Hall and Brighton Dome.
Carrying through in to December, they then play Nottingham's Royal Concert Hall, Colston Hall at Bristol, O2 Shepherds Bush Empire in London and U.E.A. at Norwich.
Be sure to book your concert tickets well in advance to prevent disappointment.
---
Related News
Buy Tickets With Confidence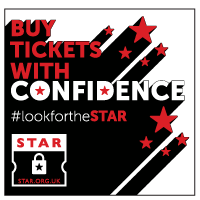 Gigantic are a primary ticket agent and full members of STAR (Secure Tickets from Authorised Retailers)
More info