Walking On Cars are the fine new alternative band from Ireland set on world domination. Their EP As We Fly South and debut album Everything This Way have pushed their names across all four corners of the globe.
The stunning band includes drummer Evan Hadnett, lead vocals provided by Patrick Sheehy, piano by Sorcha Durham, Dan Devane on guitar and Paul Flannery on bass.
The five piece was started by the school friends in 2010 who began by playing local gigs around the clubs and venues of their hometown of Dingle at County Derry. Showing their commitment right from the start, they rented a house together at Dingle Peninsula and locked themselves away to write, practice and record. They spent the next six months cut off from everything, no TV, phone or internet connection whilst they honed their sound.
By the end of 2012 they had won the Redbull Bedroom Jam competition which led to extensive prominent airplay which pushed their debut single Catch Me If You Can to #27 in the Irish Charts and continued to chart for 27 weeks whilst video was streamed 450,000 times on YouTube.
Their success continued with the release of their second single Two Stones which rose as high as #12 in the Irish Charts and received over 1,000,000 YouTube views.
The band started 2016 with the release of their debut album Everything This Way which was promoted with CD signing and in-store performances at record shops all across Ireland.
Walking On Cars tickets are currently available. Book through Gigantic today!
See the Alt Rockers play at both sites of V Festival which takes place at Hylands Park in Chelmsford and Weston Park in Staffordshire during 20-21st of August.
Then later in the year they embark upon their Autumn tour which takes them to O2 Institute Birmingham, Nottingham's legendary Rock City, O2 Academy Oxford, Pyramid Centre at Portsmouth and Roundhouse in London.
Concert Tickets for the rising stars are limited and will sell quickly so we advise you to book yours early to avoid disappointment.
---
Buy Tickets With Confidence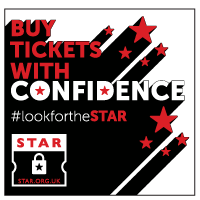 Gigantic are a primary ticket agent and full members of STAR (Secure Tickets from Authorised Retailers)
More info