Bristol electro enthused rock band The Ramona Flowers intricate work takes them from the gentle and tender right up to massive dubstep influenced sound that begs to be heard on a stadium stage. With such audacious talent merged with cutting edge sounds, they have the makings of becoming very modern icons.
The line up includes drummer Ed Gallmore, guitarists Sam Jones and Dave Betts who also plays keys plus Steve Bird providing vocals with Wayne Jones on bass.
They take their name from the superb Bryan Lee O' Malley 8 bit video game inspired comic book series Scott Pilgrim in which the slacker bassist protagonist Pilgrim must defeat Ramona Flowers' seven evil exes in combat.
Their announcement to the world through their music, Dismantle And Rebuild is a superb debut album which delightfully exhibits Bird's wide ranging singing voice and the sheer talent the band has to offer. Released in 2014, it dramatically merged electronic instrumentation with a superb rock sound to create a monumental record.
Now critics and fans are excited for the imminent release of second album Part Time Spires. The new record incorporates big dance beats and great guitar hooks to build on the premise set out by the album before, but take it to even greater heights. The album reflects the huge amount of work put in by the band who would riff off each other whilst practicing in the studio, observed by Bird who would ready his parts by recording vocal melodies into his phone and constantly be penning lyrics. The result is a well-crafted essential album.
The Ramona Flowers tickets are now available. Always go to Gigantic for your gig tickets.
They play at fantastic venue Electrowerkz in London on Wednesday 12th of October.
The concert tickets will go so quickly so book early to avoid being disappointed.
---
Buy Tickets With Confidence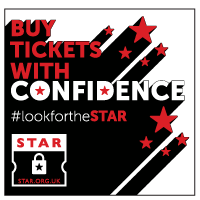 Gigantic are a primary ticket agent and full members of STAR (Secure Tickets from Authorised Retailers)
More info