Formed in Manchester in 1990 by manager Nigel Martin-Smith, Take That took the UK music scene by storm. They have sold millions of records and achieved a string of number one singles and albums. In the 1990s, the BBC described them as "the most successful British band since The Beatles, beloved of young and old alike". It's no wonder then that demand for Take That tickets is so high.
Martin-Smith modelled the band on New Kids on the Block and built it around the young singer-songwriter Gary Barlow, who had been performing in clubs since the age of 15. Barlow was joined by Mark Owen, Jason Orange, Howard Donald and Robbie Williams. The group's first release to find commercial success was 'It Only Takes A Minute', which was a cover of a Tavares song. This was followed by the top 20 hits 'I Found Heaven' and 'A Million Love Songs'.
In 1992, the five-piece released their debut album 'Take That & Party'. The LP reached number two in the UK Albums Chart and went two times Platinum. The following year, the band released a new record entitled 'Everything Changes'. Containing classic tracks like 'Pray' and 'Relight My Fire', it topped the charts in Britain and was nominated for the 1994 Mercury Prize.
Take That's next album, 'Nobody Else', came out in 1995 and debuted at number one in the UK charts. It spawned the singles 'Sure', 'Never Forget' and 'Back for Good', which topped the charts in a staggering 31 countries. However, that year Williams announced he was leaving and, in 1996, the band split.
Fortunately for heartbroken fans desperate to catch Take That concerts, the band announced they were reforming in 2005, minus Williams. The subsequent Take That tour, named the Ultimate Tour, featured guest slots from the likes of Lulu and Beverley Knight.
After signing a deal with Polydor Records in May 2006, the band released their fourth studio album 'Beautiful World', which contained the number one single 'Patience'. The track also secured the group Best Single at the BRIT Awards in 2007. This was followed by the LP The Circus, which featured the hit track 'Greatest Day'.
In 2010, Williams re-joined the group for the recording of the album 'Progress', which became the second fastest selling LP in British history. Now, this iconic English group are as popular as ever. In 2012, the band were named by Forbes as the fifth highest-earning music stars in the world and fans across the globe still clamour to get their hands on tickets to see Take That live.
With the recent news about Jason Orange leaving the band Take That have once again been thrust into the limelight. Check our website for further information on Take That gigs and what plans the new look band have.
---
Buy Tickets With Confidence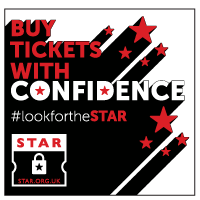 Gigantic are a primary ticket agent and full members of STAR (Secure Tickets from Authorised Retailers)
More info