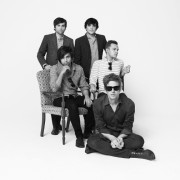 Spoon Tickets
Spoon are expected to release their eighth studio album later this year and what better place to hear their new tracks than live in London this June.
... Read more
Spoon formed in late 1993 and released their debut album 'Telephono' in 1998 via Matador Records. The group went on to sign with Elektra that same year, but were dropped by the label following the release of their second effort 'A Series of Sneaks' and eventually signed to Merge Records.

Despite label jumps the band continued to receive widespread acclaim from fans and critics alike and put out a new record in 2001 titled 'Girls Can Tell', which began to put the band on the map. The following records 'Kill the Moonlight' (2002) and 'Gimme Fiction' (2005) capitalised on and furthered this success. Looking to hit the big time Spoon kept their noses to the grindstone and put out 'Ga Ga Ga Ga Ga' in 2007 and 'Transference' in 2010, which truly cemented them as a celebrated staple in the indie scene.

Book your Spoon tickets today on Gigantic.com.
Dates and Tickets for Spoon
Sorry we currently have no dates available for Spoon.
© 2016 Gigantic Tickets Limited. All rights reserved.