Go grab your glitter and your 99p eyeliner because glam indie pop has a new hope in the form of She Makes War. Not actually a band but the work of the massively talented and greatly enigmatic Laura Kidd who varies from playing independently to full accompaniment, depending on the song.
Influenced by riot grrl, new wave of the wave and nineties LoFi synthpop, Kidd offers a range in her sound that extends from fragile bedroom confessions to bright polished radio friendly songs through to full on rock.
Her releases in include the albums Disarm (2010) and Little Battles (2012) that investigate the human condition with themes of sanity, birth, murder, loss, abandonment and hope. A kaleidoscope of methods, using both cutting edge digital equipment and tried and tested analogue technology to write songs that are either big and bolshie punk rock songs or gentle songs employing harp, ukulele and acoustic instruments.
Her latest studio album is entitled Direction Of Travel and was released in April of 2016. Produced by Kidd herself plus Dan Austin (Doves/Pixies), the album features a guest appearance from Throwing Muses co-founder and part time Breeder Tanya on the heartbroken song Paper Thin. It includes the single Cold Shoulder. The brooding song is a refusal to pursue an unrequited love interest any longer. The cool ambivalence in Kidd's voice emphases a distain that the usual shouting and screaming other bands of similar ilk just can't match. Understated vocals also work perfectly when Kidd questions the impending fallout with the darkly humorous line; "
What's coming for me; ex-girlfriend or STD?
" With its imitation of motown drums during the chorus and the using brief rhyming couplets for the verses the rhythm gets into your head and quickly moves to your feet.
She Makes War tickets are on sale right now. Always think Gigantic when it comes to gig tickets.
Playing this Autumn, she supports The Wave Pictures at The Deaf Institute in Manchester before headlining at Birmingham's Sunflower Lounge, The Islington in London and Louisiana at Bristol during November.
These concert tickets are expected to sell quickly so get yours before they are gone!
---
Related News
Buy Tickets With Confidence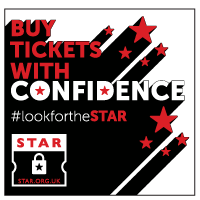 Gigantic are a primary ticket agent and full members of STAR (Secure Tickets from Authorised Retailers)
More info