You like it loud, hard and heavy? Gigantic has got exactly what you need! Following on from the truly awesome Download Festival, we bring you the ultimate selection of gigs and festivals perfect for metal heads, hard rockers and anyone who likes their amps dialled all the way up to eleven.
For those about to rock, Gigantic salutes you! 🤘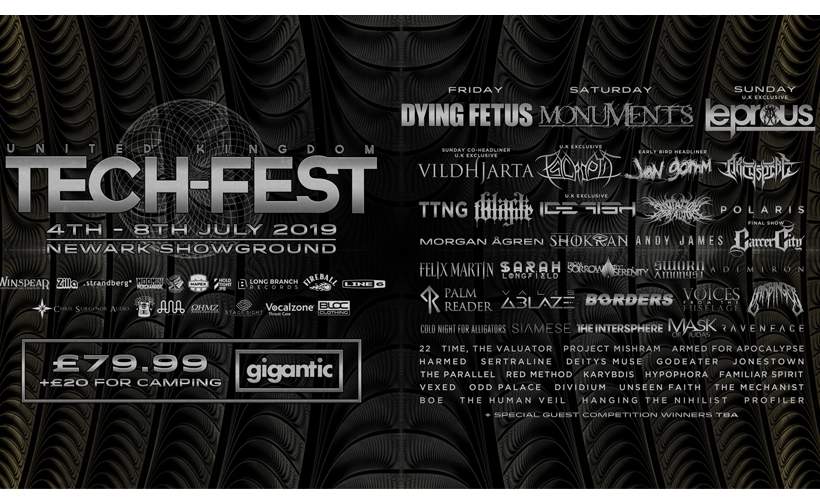 Hitting County Showground in Newark from Thursday 4th until Monday 8th of July, UK Tech Fest plays host to the very best shredders known for their impeccable performance.

What better way to enjoy the great outdoors than listen to a whole load of live metal? This year, Bloodstock's headliners include Sabaton, Parkway Drive and Scorpions.
The first, last and only name in glam rock is Kiss. Having conquered the world many times over, The Starchild, The Demon, The Spaceman and The Catman are calling on you to join them for the last ever tour in July.

Amplified is Gloucestershire's finest rock, metal and alternative festival attracting revellers from around the world with a line up combining classic acts with rising stars. In 2019, you can see Jinjer, Mushroomhead, Ugly Kid Joe and much more!
Last year saw progressive metal band Between The Buried And Me embark on their ambitious 'Automata' project which was split into two albums both released in 2018. They now show off their latest material with gigs at Manchester Academy 2 and Electric Ballroom in London.

No-one rocks harder than the Welsh as proved each year at Steelhouse Festival. Running from Friday 26th till Sunday 28th of July, their classic line up includes Thunder, Thin Lizzy plus more.

Rock and Bike Fest is a firm favourite amongst its many returning revellers and is discovered by many new convert every year. Offering three days of the best music, tattoo exhibits and a custom bike show – it's got everything you want!
Crossing the boundaries of rock and rap, Californian band Fever 333 have already had a massive year with the release of their critically acclaimed debut album 'Strength in Numb333rs'. They tour the UK in November.
Who doesn't like hardcore punk? Get to grips with Beartooth who will be playing a handful of UK dates in February of 2020.
Floridian hard rockers Alter Bridge have announced the titled of their sixth studio album with be 'Walk The Sky' and is expected to be released later this year. They will play a massive arena tour in September to support it.
Clutch command a truly dedicated and loyal following meaning they sell out venues all around the world. Following the release of their latest LP 'Book Of Bad Decision' last year, they will play Cardiff University Great Hall on Sunday 16th of June. Grab your ticket before they go!
Swedish death metal band At The Gates absolutely killed it with the release of their stunning album 'To Drink From The Night Itself' in 2018. Make sure you see them play Manchester Academy 2 abd Electric Ballroom in London
Sticking with the Swedish death metal, Amon Amarth take their name from perilous mountain Frodo is attempting to reach in J.R.R. Tolkien's fantasy masterpiece 'The Lord Of The Rings'. Just as epic in scale, Amon Amarth combine Viking mythology with mighty guitar riffs as heard on their new album 'Berserker'.