King is the work of twin sisters, instrumentalist Paris and vocalist Amber Strother with Anita bias also singing. Through their work they have managed to create their own space and following through the internet captivating the attention of other such amazing talented people, such Questlove, Erykah Badu and as the late amazing artist formally known as Prince.
Their music sees the three effortlessly drift through a myriad of influences from R&B, across electronica and including something akin to futuristic folksy jazz. Due to their wide range on influences and subtle blending of genres the Los Angeles trio have been compared to everything from classic 60's soul bands to Cocteau Twins.
In 2011 they independently released their fantastic EP The Story. Featuring title track The Story, the fantastic track was selected to be part of Glamour's Top Songs Playlist. The EP also contained the track Supernatural which was announced as NPR's Song Of The Day and the song Hey as used in the motion picture About Last Night.
The band have recently released their debut album. Boldly titled We Are King, the album continued their trend of transcending genres to great effect drawing on everything from hip hop to dream pop. The album scored an impressive 7.8 on taste making music website Pitchfork.
King tickets are on sale through the Gigantic website right now.
See the trio when they play at Village Underground in London and Thekla at Bristol.
To avoid disappointment book your tickets early through the Gigantic website.
"
KING bypasses the impulse to categorize musicians into a singular box by falling somewhere in the utopian realm of nostalgic R&B, futuristic soul and folksy-bluesy jazz.
" -
Ebony Magazine
"
It's not hard to tell what all the fuss is about; sophisticated pop harmonies that would seem more appropriate to past-masters than newcomers-yet never feel anything less than breezily accessible, mostly because of a certain emotional purity to the songwriting. The ladies of KING are just as refreshingly pleasant as their recordings...this just seems to confirm the eerie suspicion that though only two are blood-sisters, all three are spiritual triplets .
" -
Okayplayer
---
Buy Tickets With Confidence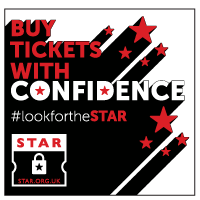 Gigantic are a primary ticket agent and full members of STAR (Secure Tickets from Authorised Retailers)
More info