Los Angeles based pop-rock band Haim are one of the most talked-about acts of the moment. Comprising of sisters Este, Danielle and Alana, along with drummer Dash Hutton, the band saw a rapid rise to stardom back in 2012, bringing with them a fresh, unique sound that combines 1970s soft-rock with bursts of contemporary hip hop and R&B influences.
In their youth, the three sisters dabbled in girl-groups and a family band up until 2006 when they made the decision to branch off and create their own music. For five years, they played at small venues around LA while continuing to work on various other projects. While Este earned a degree in Ethnomusicology and Alana spent a year at college, Danielle spent her time playing in backing bands for a variety of high-profile artists, including Jenny Lewis, the Stroke's lead singer Julian Casablancas and Cee-Lo Green. After their various solo pursuits, the sisters eventually decided to knuckle down and pursue their career as Haim.
2012 was an exciting year for the four-piece band. The release of their three-song EP 'Forever' gained considerable praise from critics and the general public alike, which resulted in the band signing a deal with Polydor records. Their success continued to escalate, with Zane Lowe playing their single 'Don't Save Me' on Radio One and UK music magazine NME ranking the title track from their EP 'Forever' in the top ten songs of the year.
In January 2013, the band topped the BBC's Sound of 2013 poll and were quickly dubbed as one of the most promising up-and-coming acts. Later that year, they released their debut album 'Days are Gone', featuring hit singles 'The Wire', 'Don't Save Me' and 'If I Could Change your Mind'. Following their widespread success, the group embarked upon a UK Haim tour in December 2013 and signed to Jay Z's prestigious record label Roc Nation.
With a distinctive folk-rock sound that has been compared to the likes of the legendary rock band Fleetwood Mac, there's no surprise that Haim tickets are selling out fast. All three sisters are accomplished in multiple instruments, and between them they can play the guitar, the bass, the drums, the keyboard and percussion. Haim concerts offer an exhilarating mix of smooth harmonies, impressive guitar riffs and crowd interaction. To ensure that you don't miss the next Haim UK tour, keep an eye out on this page for upcoming dates.
---
Buy Tickets With Confidence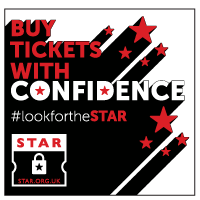 Gigantic are a primary ticket agent and full members of STAR (Secure Tickets from Authorised Retailers)
More info