Hadouken! are a indie/electro band formed in 2006 at the University of Leeds, United Kingdom by vocalist James Smith and guitarist Daniel Rice. After forming their own record label, Surface Noise Records, in February 2006 Smith began writing and demoing the first Hadouken! tracks. The band was formed in October 2006 with Daniel Rice's brother, drummer Nick Rice and James Smith's girlfriend Alice Spooner who plays synths. In December 2006 they added bassist Chris Purcell (born 1986) to their lineup. Nick Rice's brother Steve Rice was originally the band's drummer, though pulled out after two weeks.
In February 2007 the band released their first record, a two song vinyl with the song "That Boy That Girl", which gained mainstream popularity after the video, directed by friend Bob Harlow, made it onto MTV2. Shortly after the video, the band added bassist Chris Purcell. After releasing their 12-track mixtape "Not Here To Please You" on November 12, 2007 featuring originals and remixes, the band returned to the studio to complete their debut album Music for an Accelerated Culture. This featured nine new songs as well as the single "Liquid Lives" and was released on May 5th 2008. It achieved reasonable success reaching 12th in the UK album charts.
The band's second album, 'For The Masses', reached the top 20 in 2010 and Hadouken rightfully earned a reputation as a live act not to be missed after an intense run of major festival appearances over the summer, including Radio 1's Big Weekend, Carling Reading and Leeds, Underage and Relentless NASS. Following their own sell out headline tour, Hadouken joined forces with drum and bass giants Pendulum, as the main support on their UK arena tour.
Hadouken are ready to destroy the UK once more with their 2013 tour. Tickets on sale now.
---
Buy Tickets With Confidence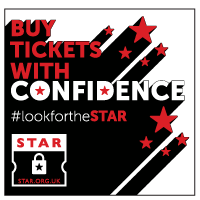 Gigantic are a primary ticket agent and full members of STAR (Secure Tickets from Authorised Retailers)
More info