Galactic Empire take the original John Williams Star Wars scores and give them the heavy metal bacta tank treatment to make them rock harder than a rancor on acid. The Dark Side has never sounded so good!
The sensational Sith musicians include drummer Boba Sett, guitarists Shadow Ranger and Red Guard, bass provided by the Bass Commander and lead guitarist Dark Vader who is more machine than man.
Join them, and together you will rule the galaxy.
"
These instruments are crude but should be adequate to shred some faces as we journey across the galaxy. We have been doubling our efforts to complete our debut full-length album in time for the Emperor's arrival. If you are not part of the Rebel Alliance or a traitor, buy our single on iTunes and prepare to succumb to the Dark Side upon our album's release.
"
Galactic Empire tickets will be available from 12:00 on Monday 27th of June. Be sure to set your own personal reminder using Gigantic.com
The scourge of Jedi will tour this December, stopping to occupy the stages of Patterns in Brighton, essential Sheffield club Plug, Zephyr Longue at Leamington Spa and Sub 89 at Reading.
They then follow the Emperor's bidding to Talking Heads at Southampton, Bristol Fleece and The Globe in Cardiff.
The Star Destroyers will then head towards O2 Academy3 Birmingham before sending the finest legion to The Venue at Derby, O2 ABC2 Glasgow, O2 Academy2 Newcastle, The Scholar at O2 Academy Leicester and then O2 Academy Islington in London.
Concert tickets are always limited so make sure you book your tickets early to avoid disappointment. It is your destiny.
---
Buy Tickets With Confidence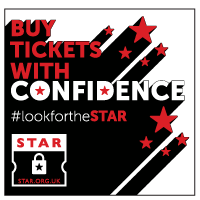 Gigantic are a primary ticket agent and full members of STAR (Secure Tickets from Authorised Retailers)
More info