Hardcore rock band Fucked Up are known for their wild chaotic live shows, sonic experimentation and the singer's penchant for cutting and stabbing objects into his forehead. The awesome band works under a variety of stage names and includes drummer Guinea Beat / Mr. Jo (Jonah Falco), lead guitarist 10,000 Marbles (Mike Haliechuk), vocals provided by the bearlike Father Damian / Pink Eyes (Damian Abraham), rhythm guitarist Concentration Camp / Gulag (Josh Zucker) and Mustard Gas (Sandy Miranda) on bass.
The band announced their existence by recording and releasing a demo in 2001. This was subsequently followed by a lengthy period of releasing a great number of stunning 7" vinyl singles. Other releases at the time include the stunning 12" Looking For Gold, Let Likes By Cursed By Likes and Year Of The Dog.
They released their debut album Hidden World in 2006 which marked their transition from the underground to a more mainstream media. However, this was not without some controversy. Nevermind the problems with the name, they had numerous run ins with MTV when both audience and band caused damage to building property due to the chaotic nature of their performances - on one occasion made worse due to Abraham's visible forehead self mutilation.
Despite the criticism they were picked up by rock label Matador Records who understood the nature of the band and with whom they are still making releases. Their other albums include The Chemistry Of Common Life (2008), David Comes To Life (2011) and Glass Boys (2014).
Fucked Up tickets are on sale now. Always make Gigantic your first stop for gig tickets.
This October sees them play their amazing debut album Hidden World in full to celebrate the record's tenth anniversary at The Dead Institute in Manchester and vibrant Brighton venue The Haunt.
They have been invited to join exciting day festival Mirrors which is hosted across a variety of top venues in the London borough of Hackney.
Concert tickets are expected to sell fast so book early or risk being left disappointed.
---
Buy Tickets With Confidence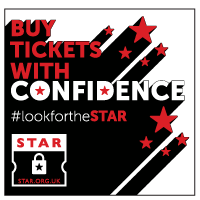 Gigantic are a primary ticket agent and full members of STAR (Secure Tickets from Authorised Retailers)
More info