Legendary band Europe have sold 23 million albums worldwide and continue to be the cornerstone of rock.
The legendary band is currently comprised of bassist John Levén, drummer Ian Haugland, singer Joey Tempest, John Norum playing guitars and Mic Michaeli on keys.
Originally named Force, the band started in Upplands Väsby, Stockholm, during 1979 and developed their talents by learning covers and then quickly moved towards writing their own material. Although local labels did show an interest it was on the condition that the rockers cut their hair to suit a more clean cut image and sing in Swedish.
Passing on the offers, the band continued to work in their own direction. In 1982 the band changed their name to Europe and competed in the Rock-SM talent competition the band beat 4000 other bands to the first prize thanks to their two songs In The Future To Come and The King Will Return with Tempest also winning the award for Best Lead Singer and Norum taking home Best Guitarist.
Winning so many awards landed them a record deal and their eponymously titled debut album was released in 1983 and featured the two songs that had served them so well in the competition.
Their real breakthrough was the 1986 album The Final Countdown. Featuring the huge classic rock single of the same name, the album has sealed the band's reputation as a vitally important part of rock history.
The band continues to grow and write new material. Last year saw them release the new album War Of Kings.
Europe tickets are on sale right now.
Make sure you get your tickets to see them headline the phenomenal Roundhouse in London on Saturday 12th of November.
Always book concert tickets early to avoid any disappointment.
---
Buy Tickets With Confidence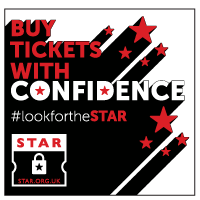 Gigantic are a primary ticket agent and full members of STAR (Secure Tickets from Authorised Retailers)
More info