Candlebox draw on a wide range of influences including blues and jazz to create intensely exciting hard rock. The Seattle band were on hiatus but are now back and have released six studio albums including the brand new record Disappearing In Airports. Their members now include drummer Dave Krusen, rhythm guitarists Brian Quinn and Island Quinn with Mike Leslie playing lead guitar, Kevin Martin providing vocals and Adam Kury on bass.
Forming in 1990, the band initially went under the title Uncle Duke but changed the name whilst still practising. Based in Seattle, Candlebox were perfectly placed to take advantage of the rise of interest in Grunge and by 1992 were familiar faces on the cities bigger venues.
They released an 8-track ep which saw them sign to Maverick Records with who they released their debut album. Eponymously titled, Candlebox came out in 1993 and sold more than 4 million copies to peak at #7 on the Billboard 200; enough to be certified four times Platinum. Listeners rewarded them by awarding them the Reader's Choice for Best New Band in Metal Edge Magazine.
Their second album Lucy was released in 1995. The Gold selling album hit #11 in the Billboard 200. They released the two albums Happy Pills and Into The Sun before falling into conflict with their record company which would lead to a hiatus. It would last for seven years before they reunited in 2006 and went on to release the album Love Stories & Other Musings.
Their latest release is the album Disappearing In Airports. The fantastic record looks set to be the basis of their highly anticipated upcoming live dates.
Candlebox tickets can soon be yours. Set your very own personal reminder to arrive via text message or email through Gigantic so you are ready for their launch at 10:00 on Friday 19th of August.
They kick off 2017 with a huge January tour which takes them to Sub 89 at Reading, Talking Heads at Southampton and then essential Sheffield venue Plug. Then they push on to Cardiff where they play at The Globe, Bristol Fleece and then Underworld in London.
Gig tickets are limited and expected to sell fast so book early to prevent missing out.
---
Buy Tickets With Confidence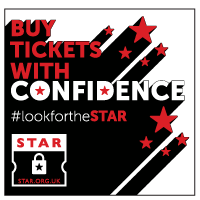 Gigantic are a primary ticket agent and full members of STAR (Secure Tickets from Authorised Retailers)
More info