The massively popular Canadian band Billy Talent been working together for over 20 years. Highly respected, the band has won 10 awards out of the 32 nominations they have earned at the MuchMusic Video Awards. They have also won 7 of the 20 nominations at the Juno Awards.
Billy Talent is comprised of singer Benjamin Kowalewicz, drummer Aaron Solowoniuk with guitarist Ian D'Sa and Jon Gallant on bass.
The band was first formed in 1993 in order to enter a high school talent competition. The school friends named the band Pezz and continued to work together recording in D'Sa's basement and saw their reputation grow as they became a huge part of the Canadian indie scene.
Pezz were forced to change their name when it was made apparent to them via the courts that an American punk rock band actually held the rights to their former name. In 2001 they changed the name of the band to Billy Talent - the inspiration coming from a guitarist in the novel Hard Core Logo by Michael Turner.
The change in name was accompanied by a change in style and, consequently, a change in success. Adopting a harder style, the band grew and were signed to Warner Music Canada by 2002. Their first album, the self-titled Billy Talent, was released in 2003 and has since been certified three times platinum.
Boosted by their newfound mainstream success the band started to receive international interest. The 2006 album Billy Talent II shot into #1 in the Canadian Albums Chart, selling 48,000 copies in the first week alone, and also hit #1 in Germany
Third album, Billy Talent III, also reached #1 in the Canadian Albums Chart upon its release in 2009.
Dead Silence was their latest studio album. Released in 2012, it was produced by D'Sa.
Soon to be released is their newly announced fifth studio album; Afraid Of Heights. Recorded in their very own studio in Toronto, the record will see Jordan Hastings from the band Alexisonfire working on drums, filling in for Solowoniuk who is currently taking a hiatus from the band due to ill health.
"
This record is about struggle, both within ourselves and within the society we live. It's about asking questions. It's about friendship and loyalty, and it's about choosing not accept things that don't apply to us, that don't represent us. It's about believing in the person that's reflected in the mirror and taking responsibility. It's about the pressures that society creates and how we're all trying to figure out where we fit in. It's about following your dreams and knowing that when you get knocked down you have to get back up. It's about listening to our planet and learning to respect her. It's about love and loss and life… but more importantly it's about the power of ROCK 'N ROLL
" -
Ben Kowalewicz
Billy Talent tickets are on sale right now through the Gigantic website.
See them rock out at the fantastic Download Festival at Donnington Park, Castle Donnington, from Friday 10th till Sunday 12th of June.
Concert tickets always fly off the shelves so always make sure you book yours early to avoid disappointment.
See them perform their headline tour this October at O2 Academy Bristol, O2 Academy Newcastle, O2 Institute Birmingham, O2 Academy Leeds, Rock City in Nottingham, Roundhouse in London and O2 Guildhall Southampton.
---
Buy Tickets With Confidence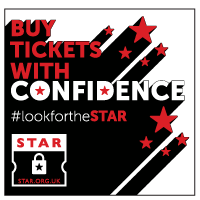 Gigantic are a primary ticket agent and full members of STAR (Secure Tickets from Authorised Retailers)
More info