Superb guitar player Ben Harper is back in the UK. His range of music stretches from blues, to soul, folk, rock and reggae. A keen activist, his music is never afraid to address weighty topics revealing his skill with words matches his talent for the guitar.
In 2003 Rolling Stone declared him their Artist Of The Year. He has also won three Grammy Awards for Best Pop Instrumental Performance in 2005, Best Traditional Soul Gospel Album for There Will Be A Light in 2005 and Best Blues Album in 2014 for Get Up! An album he worked on with other great musician Charlie Musselwhite.
Benjamin Chase Harper was born in 1969 and began playing guitar as a child. Enthused by seeing Bob Marely playing at the age of nine, he was playing his own performances by the time he was only twelve years old.
His career truly began with the recording of the LP Pleasure And Pain with folk musician Tom Freund in 1992 which landed him a deal with Virgin Records. Since he established his own platform Harper's fame has grown to reflect his talent. He has released thirteen albums which have seen him work with a variety of amazing musicians and explore the sheer depth of his ability.
Ben Harper & The Innocent Criminals have just released their brand new album Call It What It Is. Drawing on his real life experiences of police harassment and recent terrible events in America that highlight a history of strife, the album examines abuse of power and the people's reaction to it.
Unafraid to take an unflinching look at the problems of racial profiling and police brutality, the new record takes a sombre tone.
Concert tickets may sell out so book early to avoid disappointment.
See him play with The Innocent Criminals at the historic venue O2 Academy Brixton in London on Wednesday 26th of October.
Ben Harper tickets are on sale right now so make sure you get yours!
---
Buy Tickets With Confidence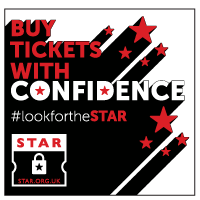 Gigantic are a primary ticket agent and full members of STAR (Secure Tickets from Authorised Retailers)
More info