Multisensory performance art BE offers the unique amalgamation of the sound of 40,000 real live working honey bees united by pieces performed by renown musicians to create a truly powerful soundscape like no other.
The band BE is the work of artist Wolfgang Buttress and a team of excellent musicians including Tony Foster, Kev Bales, Deirdre Bencsik, Camille Buttress plus the work of scientist Dr. Martin Bencsik and, of course, the dedicated efforts of 40,000 honey bees. The project has taken the form of an exceptional sculpture called The Hive which is situated at the Royal Botanic Gardens Kew and has also been captured as an album entitled One. And now you can see the record being performed live.
A truly amazing immersive experience. The sounds and vibrations of the local working hive housed at Brackenhurst in Nottinghamshire will be streamed live into the fantastic venue using state of the art technology utilising a 3D surround sound system to accompany the compelling visual imagery to create an awe inspiring effect which adds so much to the extremely talented musicians. The performance is not to be missed and the memories will last a lifetime.
Artist Wolfgang Buttress specialises in exciting new ways of understanding space and has worked with perfumers and the candle makers Haeckels to create illuminations which will fill the church with light and scent.
This will be the latest of a series of critically acclaimed events offered by BE. Their past events have included two sell out shows at Nottingham Arts Theatre and appearances at such famous festivals as Blue Dot, Caught By The River, End Of The Road and Glastonbury.
"
Absolutely wonderful
" -
Mary Anne Hobbs, BBC 6 music
"
ONE- not just a great record, but a statement on modern life itself
" -
Tim Jonze, The Guardian
BE tickets are on sale right now. Always go to Gigantic for all your gig ticket needs.
This winter sees them play three stunning shows over two days at beautiful St. Mary's Church in Nottingham. They will play on the evening of Friday 16th and offer a matinee plus evening show on Saturday 17th of December.
These concert tickets are very special and not expected to last for long so ensure you book yours early or run the risk of missing out altogether.
---
Buy Tickets With Confidence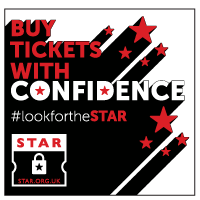 Gigantic are a primary ticket agent and full members of STAR (Secure Tickets from Authorised Retailers)
More info