Southend-On-Sea four piece rock band Asylums have been exciting critics since they recently burst on to the scene. The band consists of drummer Henry Tyler, guitarists Jazz Miell and Luke Branch who provides vocals and Michael Webster on bass.
The band have just released their debut album through their very own label Cool Thing Records. Entitled Killer Brain Waves, the album will be promoted by an upcoming tour. The record features the new single Necessary Appliances.
"
Asylums start every video with the same ethos, what interesting/fun visual statement can we make with no money. 'Necessary Appliances' was no different, after a bit of consideration we spent two days emptying out my bedroom, covering the walls with tin foil and filling up the room with broken computers, hoovers and random bits of circuitry. It was pretty surreal, but as with all our videos we were just having fun along with our visual collaborators Kana Waiwaiku and the Iron Brain. As a DIY band running our own record label Cool Thing Records we rely on ideas over budget, spirit over perfection and just enjoy the process. I think this video pretty much captures how we felt at the time, crazy, isolated and full of beans.
" -
Luke Branch
Asylums tickets are ready for you to order - so get yours today!
Touring extensively in October, they will play at The Eagle Inn at Salford, The Caller Bar at Oxford, Bristol Exchange, Brighton venue The Hope And Ruin, Leicester club The Cookie and The Rainbow in Birmingham.
Gig tickets come in limited amounts so please book early to avoid disappointment.
---
Buy Tickets With Confidence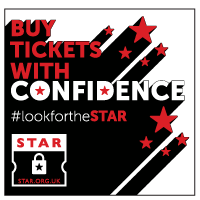 Gigantic are a primary ticket agent and full members of STAR (Secure Tickets from Authorised Retailers)
More info