All Tvvins are Ireland's sharp new electro-indie outfit who are in the business of writing massively catchy anthem tunes with an eighties synthpop feel. Their massive hit singles included Darkest Ocean, Unbelievable and Thank You.
The band was formed following the end of the bands Adebisi Shank and The Cast Of Cheers and centres around Lar Kaey and Conor Adams. They originally were working under the name Tvvins before discovering the name had been used by one or two bands before. They also started as a loud and brash guitar band before adopting a new direction.
"
We were both thinking, 'okay we should do something guitar-based and loud'. But once we actually got comfortable, we both thought, 'why are we writing this sort of music? Should we not try something different?
" -
Adams
The band have now found success writing precise and powerful songs that beg to be played in a large setting and look set to one day be playing venues a lot larger than they currently are. So make sure you see them now before they play in a lot less intimate setting.
All Tvvins tickets will be coming on sale Friday 10th of June at 09:00. Don't forget to set a reminder using the Gigantic website.
Touring in October, the pair will play at Nottingham's Bodega Social, The Bullingdon in Oxford, The Hope And Ruin at Brighton, Rainbow Courtyard in Birmingham, Louisiana in Bristol and The Cookie in Leicester.
They are in high demand so make sure you book your concert tickets early.
---
Related News
Buy Tickets With Confidence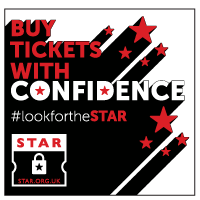 Gigantic are a primary ticket agent and full members of STAR (Secure Tickets from Authorised Retailers)
More info