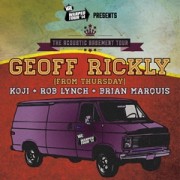 Vans Warped Tour Tickets
For a long time, the Vans Warped Tour was a product of the US only, with fans looking on with envy as some of the biggest punk rock, ska and emo bands... Read more on the planet tore up stages across America. However, in recent years, the Warped Tour has grown wings and set its sights on conquering the rest of the world.
The 2014 Warped Tour will head out across Europe once again, giving fans the chance to see some of the biggest and best bands on the circuit. Any alternative band worth its guitars have played the Warped Tour, and each year it just gets bigger and better, with 2014 promising to be the craziest year yet.

Dates and Tickets for Vans Warped Tour
Sorry we currently have no dates available for Vans Warped Tour.
© 2015 Gigantic Tickets Limited. All rights reserved.