The music of The Duke Spirit is brash, confident and alluring. Drawing on influences as wide ranging as blues, motown and shoegaze, The Duke Spirit continue to write dazzling music that demands attention and stands miles apart from the formulaic music churned out by others.
Headed by Liela Moss on vocals and piano, the band is currently comprised of Luke Ford on guitar and keyboard, Toby Butler who plays bass, guitar and keyboard for the band and drummer Olly Betts.
An art school band, The Duke Spirit started with the meeting of Moss and Ford who decided to ditch their courses and move to London to pursue music together. Once there, the pair recruited a full band and initially called themselves Solomon before shortly switching to the name we know today.
In 2003 the band released their first EP titled Darling, You're Mean through the label City Rockers and immediately came to the attention of the NME. Boosted by the positive press attention, the band continued to tour hard but suffered a blow with the collapse of their label.
Undeterred, the band continued to work and word continued to spread of the band despite having little in the means of promotion because of their outstanding live performances. Through their hard work and determination the band signed to Loog and debut album Cuts Across The Land was released in 2005.
The record featured the talents of Chris Gross as producer, who also worked on their second album Nepture, released by You Are Here in 2008.
Their third album; Bruiser came out in 2011 under the label Fiction. Aptly titled, the record saw the band return with a heavier sound.
New album Kin is out now. It features the massively confident single Hands and the dark and hypnotic single Here Comes The Vapour. The record has been produced by Simon Raymonde, well known for his work with Cocteau Twins.
The Duke Spirit tickets go on sale Monday 9th of May at 09:00.
To promote the new album, the band will be playing headline dates in October at Patterns in Brighton, The Rainbow in Birmingham, Manchester Gorilla, The Bodega Social in Nottingham, Bristol Fleece and Scala London.
Concert tickets can be bought online through Gigantic. But don't hang around as they will go!
---
Related News
Buy Tickets With Confidence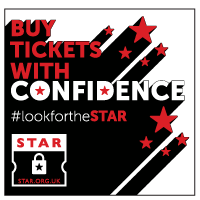 Gigantic are a primary ticket agent and full members of STAR (Secure Tickets from Authorised Retailers)
More info