Beam Me Up is the brand new two-date festival hitting both Lincoln and Oxford, bringing with it 12 acts over two stages including awesome headliners Coach Party, Opus Kink and Prima Queen!
First arriving at The Drill in Lincoln on Friday 10th February before making its way to O2 Academy Oxford on Saturday 11th; you can look forward to a line up packed full of the most crucial acts currently breaking through – with zero clashes!
CLICK HERE to get your tickets for Beam Me Up – including Early Bird offers!
The second stage provides a platform for the best in local talent, with L.A. Sunday and Midnight Rodeo appearing at Lincoln whilst Self Help and The People Versus will be performing in Oxford.
Experienced promoters Jake Pell (A New View Music) and Joe Davies (BTW Presents) have strong links with both regions, and are excited about their new project:
"The festival will be essential for everyone who wants to hear some of the most exciting new music in the UK. We're committed to delivering this at an affordable price and providing what might be the last chance to see these bands up close before they go on to bigger things." – Jake Pell
Plus, with even more bands yet to be announced, Beam Me Up is the must attend event for the serious music lover. Tickets on sale with Gigantic right now!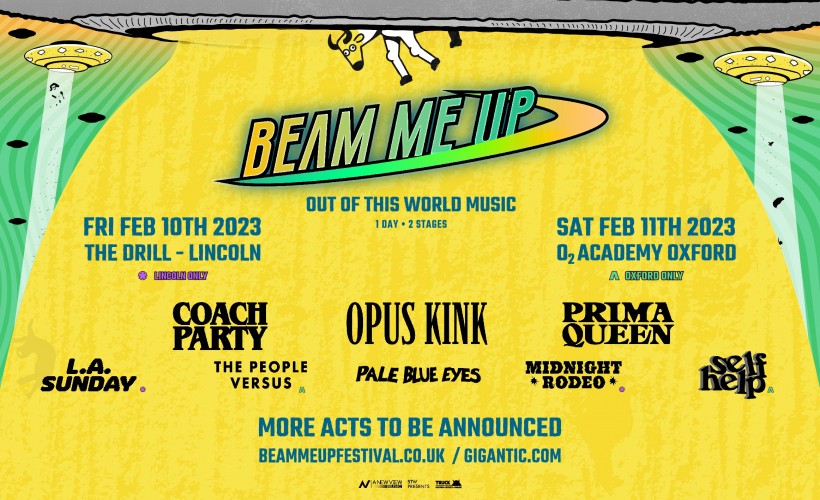 📆 February
10/02 Beam Me Up (Lincoln) – The Drill, Lincoln
11/02 Beam Me Up (Oxford) – O2 Academy Oxford, Oxford