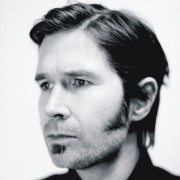 Justin Currie Tickets
Former Del Amitri frontman turned singer/songwriter Justin Currie has released two solo albums to date. What is Love For in 2007 which he
described ... Read moreit as 'eleven thunderously dreary dirges'! Fortunately, not everyone agreed with him and the album won accolades from critics, fans
and fellow artists, as a thing of dark and starkly honest beauty. His second solo album The Great War, was released in 2010 and delivered
a bracing set of original compositions that broke yet more creative ground - and further cemented Currie's place as an ambitious and
versatile solo artist.

Justin Currie has plenty of experience in defying musical expectations. He was still in his teens when he co-founded Del Amitri in his
hometown of Glasgow. Between 1982 and 2002, the band evolved from resourceful D.I.Y. indie combo to international hitmakers,
releasing six much-loved studio albums before amicably parting ways.

"It's a big difference being a solo operator," Currie observes. "What you lose in companionship, support and input, you gain in creative
control. But most of the elements of what I do haven't changed all that much. I'm still looking for melody and lyrics that I can feel
something from, and trying to put them into the standard structures of the rock or pop song. I love those structures; to me, the
verse/chorus/middle-eight thing still seems filled with endless unexplored possibilities."

The combination of uplifting tunes and darker lyrical themes has long been a recurring motif in Currie's songwriting. "Del Amitri
were often described as 'bittersweet' for that very reason," he notes, adding, "Do I do this deliberately? I don't know. I am an
enormous devotee of pop melodies, from Cole Porter to Amy Winehouse, Smokey Robinson to Buzzcocks. Lyrically, more often
than not, I seem to gravitate towards the ambiguity of feelings, the struggle with motivations and doubt in relationships, self-loathing
and disappointment—somber things sometimes, but with a scintilla of hope, or at least catharsis. As a songwriter, I use melody to
make all of this less maudlin, hopefully, and to create tension."

"I love to undermine a lyrical conceit with a contrasting tune," Currie asserts. "I like to sew doubt in the listener's mind. Does he
mean these things? Is this song actually as melancholy, defeatist or cynical as it seems? Or is this guy a romantic who's optimistic
about the consoling power of love?"

"If I have a mission as an artist," he concludes, "it would be to get a little more poetry into the great warehouse of rock music. All I
can do is get it out there and fight to be heard; that's the great war."

In October 2012 Justin travelled to Austin Texas to work with producer Mike McCarthy on his third solo album which is due to be
released in August 2013. More news on that soon….

Notes

Justin Currie was the lead singer and bassist in Del Amitri, which he formed in Glasgow in 1982 with Iain Harvie.

Del Amitri became an internationally successful band, with estimated record sales of 5 million plus, hit singles including 'Kiss
This Thing Goodbye', 'Nothing Ever Happens', 'Always the Last to Know' and the US Top 10 hit 'Roll to Me'.

Justin Currie is unmarried and lives a quiet life of standing up and sitting down in Scotland with his two pet television sets.

Dates and Tickets for Justin Currie
Sorry we currently have no dates available for Justin Currie.
© 2015 Gigantic Tickets Limited. All rights reserved.