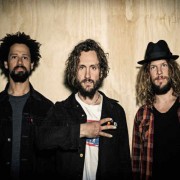 John Butler Trio Tickets
The John Butler Trio are a band filling a void in modern music. They create wanted, heartfelt music that inspires goosebumps and devout loyalty from i... Read morets fans. They're an Australian roots and jam band formed in Freemantle in 1998. John Butler leads on guitar and vocals with Nicky Bomba on drums and percussion with Byron Luiters on bass. They've released five albums, all of which were warmly received by fans and critics.

The band are touring with their sixth studio album Flesh and Blood which was released in February 2014. The solid groove and atmospheric live sets that the band are renowned for can be an experience you can take part in by purchasing your tickets from Gigantic. John Butler Trio are a fun, hardworking band that are a joy to see live, so join in the fun and watch them live at their next concert!

If you're lucky enough to live in either Manchester, Nottingham, London, Bristol or Plymouth then you have the chance to see this stellar band live. Check out the tickets available below and see them throughout April and May 2014.

Dates and Tickets for John Butler Trio
Sorry we currently have no dates available for John Butler Trio.
© 2016 Gigantic Tickets Limited. All rights reserved.