English singer, composer and guitarist Eric Clapton has to be one of the most respected and loved rock artists of all time. Over his long and distinguished career, he has secured numerous Grammy Awards, a BRIT Award and a CBE for services to music. He even became the first musician to be inducted into the Rock and Roll Hall of Fame three times. The performer, who also goes by the moniker Slowhand, first received this honour as a member of the Yardbirds in 1992, then again with Cream in 1993 and finally as a solo artist in 2000.
Clapton's musical career had inauspicious beginnings. Born in 1945 in Surrey, England, he began showcasing his skills as a busker in London at the age of 17. However, in 1963 his fortunes changed when he signed with the Yardbirds. Since then, he has enjoyed almost unwavering critical acclaim and popular success with a variety of musical outfits and as a solo act. Eric Clapton concerts still entrance audiences across the globe and, if you want to get your hands on tickets for an Eric Clapton tour, you'll need to be quick off the mark. His legendary guitar work has seen him sell millions of albums and play to countless sell-out venues.
One of Clapton's most popular tracks is 'Layla', which was recorded during his time with the band Derek and the Dominos. Following the tragic death of his son in 1991, he released the song 'Tears in Heaven'. This beautiful, heartfelt track reached number two on the Billboard Hot 100 singles in the US.
As well as focussing on his own work, he has collaborated with a plethora of other artists. For example, in September 1968, he added guitar to George Harrison's song 'While My Guitar Gently Weeps'. He can also be heard on tracks by Bob Dylan, Elton John, Aretha Franklin, Sting and Roger Waters.
In 2013, Clapton released his 21st studio album, entitled 'OLD SOCK'. It features a collection of some of his favourite songs stretching from his childhood to the present day and it is a celebration of many of those who have inspired the artist in his work, from Peter Tosh to George Gershwin. It also features two original songs, called 'Every Little Thing' and 'Gotta Get Over'.
If you want to see the great man himself on stage, keep checking our website for Eric Clapton tickets. Once you've experienced Eric Clapton live, you'll understand exactly why this rock legend has enjoyed a high-profile career spanning over 50 years.
---
Buy Tickets With Confidence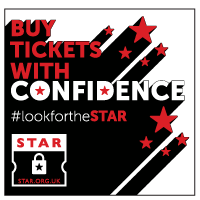 Gigantic are a primary ticket agent and full members of STAR (Secure Tickets from Authorised Retailers)
More info