Blues Pills take the blues of the sixties and seventies rock to push forward with a new modern sound. Psychedelic yet with intensely tight riffs, the band look set to take the world by storm.
Coming from the Swedish city of Örebro, the band unites the talents of vocalist Elin Larsson, Dorian Sorriaux playing guitar, drummer André Kvarnström and Zack Anderson on bass.
Their name comes from the music blog BluesPillz which dealt with sixties and seventies underground music in the style that directly influences the band.
The band started in 2011 after half-brothers Anderson and former drummer Cory Berry met Larsson whilst in Iowa. The trio recorded two tracks which they uploaded to YouTube which led to them being snatched up by the label Crusher Records. Returning to Europe, the band met sixteen-year-old guitarist Sorriaux was recruited to join the band.
By 2012 the band was ready to record original material and released the Bliss EP in May and then the single Black Smoke in July. Crossing over to the German label Nuclear Blast Records, they released the Devil Man EP in October of 2013.
Their eponymously titled debut album; Blues Pills was also released through Nuclear Blast Records in July of 2014. The blistering album features the smouldering single High Class Woman. The song has more hooks than a fishing boat and all the makings of a timeless classic. It also contains a re-working of the Chubby Checker song Gypsy. The song is played with such passion and skilful fury it can only be considered a new imagination of the song rather than a cover.
The first LP record saw them smash into #4 in the German album charts, #10 in Switzerland and sell extremely well in Britain.
Make sure you book your Blues Pills tickets in advance to avoid disappointment.
Tickets for this must see band go on sale Friday 6th of May. Playing a headline tour this November which takes them to The Slade Rooms in Wolverhampton, Manchester Club Academy, London KOKO and The Marble Factory in Bristol.
Concert tickets can be bought online through the Gigantic website.
---
Buy Tickets With Confidence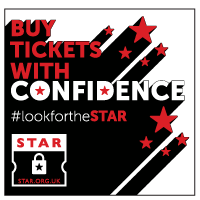 Gigantic are a primary ticket agent and full members of STAR (Secure Tickets from Authorised Retailers)
More info