White Denim are an American indie garage band from Austin, Texas, that encompass genres as wide as psychedelic rock and roll, jazz, punk infused blues, experimental rock, dub and prog. Not afraid to experiment they implement a jamming style in their performances as well as their recordings which are often made in their home studios which suit their greatly improvised style.
Their original line up was a three piece after Steve Terebecki from Peach Train joined James Petralli and Josh Block of Parque Touch.
The first recorded release of the band came in 2007 with a self-released 7" EP titled
Let's Talk About It
. This was quickly followed by another tour EP
Workout Holiday
which was recorded and subsequently sold out whilst out on the road. The two EPs drew wider attention and White Denim signed to the internet release label RCRD LBL with whom they re-released
Workout Holiday
, albeit with three tracks re-recorded.
The band continued to tour heavily building a fan base through their recordings and amazing live performances. After signing to label Full Time Hobby, they released their debut album titled
Workout Holiday
in 2008 which combined re-recorded tracks of tracks from the two EPs plus new songs. Later in the same year the band released a second album;
Explosion
.
Further album releases from White Denim include
Fits
(2009),
Last Day Of Summer
(2010) which saw the new addition of guitarist Austin Jenkins,
D
(2011) and
Corsicana Lemonade
(2013).
2015 saw major changes within the band with the departure of founding member Josh Block and Austin Jenkins resulting in the addition of Jonathan Horne and Jeffrey Olson to the band.
New album
Stiff
was released on Downtown Records in March. Despite being the seventh studio album for the band, given the major changes in line up they felt it couldn't just be a continuation of the previous work.
"I wanted to treat this like a debut record. The band's still called White Denim and it is because that's what we're calling it, essentially, but I definitely felt like we needed to go back-to-basics. It was like we write the tunes, rehearse them for a week or two weeks - we didn't do a lot pre-production - then just bang it out. It was the first time to go in with a producer from the beginning of a record and finish with a producer as well."
- James Petralli
Playing headline shows this year, make sure you see White Denim at O2 Academy Bristol and Rock City in Nottingham.
White Denim tickets can be bought through Gigantic. Get your hands on yours right now!
---
Related News
Buy Tickets With Confidence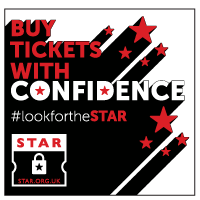 Gigantic are a primary ticket agent and full members of STAR (Secure Tickets from Authorised Retailers)
More info