For fans of scurvy, murder and gin; The Men That Will Not Be Blamed For Nothing provide the perfect steampunk soundtrack to all those terrible things we thought we'd condemned to the past. Deriving their name from the chalk message scrawled above a bloodstained apron rumoured to belong to famed killer Jack The Ripper following the murder of Catherine Eddowes, the band take influence from the darker side of Victorian history. In their own words; "
Crusty punk meets cockney sing-songs meets grindcore in the 1880s.
"
The steampunk band formed in 2008 and consists of drummer Jez Miller, guitarist Andrew O'Neil sharing vocals with Gerhard 'Andy' Heintz who also plays the musical saw plus Marc Burrows on bass. Their grim depiction has appeared on the cover of lifestyle magazine The Chap, whilst tales of their deeds has been annotated in the pages of NME and Bizarre Magazine.
They have released six albums including:
• 2010
Now That's What I Call Steampunk! Volume 1
• 2011
Anachrony In The UK: Live In London
• 2011
Free Spirit (Wax Cylinder Edition)
• 2012
This May Be The Reason Why The Men That Will Not Be Blamed For Nothing Cannot Be Killed By Conventional Weapons
• 2013
The Gin Song/Third Glass Coffin
• 2015
Not Your Typical Victorians
Other releases include A Very Steampunk Christmas EP which was released in 2010.
The Men That Will Not Be Blamed For Nothing tickets can soon be yours. They are released at 10:00 on Friday 29th and you can set your own personal text or email reminder via Gigantic so you are ready for their release.
Touring in November, they will play at O2 Academy3 Birmingham and O2 Academy Islington in London.
Gig tickets are always limited so book early or miss out on seeing this highly original and entertaining band of musicians!
---
Buy Tickets With Confidence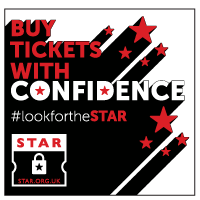 Gigantic are a primary ticket agent and full members of STAR (Secure Tickets from Authorised Retailers)
More info