Though they may never have reached the heights of commercial success or mainstream popularity, the Godfathers have nonetheless gathered a loyal army of fans over the past three decades. If you count yourself amongst those pledging support to The Godfathers, you'll be delighted to know that you'll have plenty of chance to see them doing what they do best on the stage this year.
The genre-hopping alternative band will be performing in their most recent incarnation in a series of The Godfathers tour dates across the UK. Upcoming gigs include The Globe in Cardiff, Liverpool's O2 Academy2 and the O2 ABC Glasgow. Even those who have seen the band perform in the past couple of years will notice some changes in the line-up, most notably the replacement of guitarist Del Bartle with the twin guitar attack of Steve Crittal and Mauro Venegas.
Not to be confused with the rap duo of the same name which features Kool G Rap and Necro, The Godfathers originally formed in 1985, and for the next 15 years they toured and recorded relentlessly, taking their punk-infused alternative rock and new wave sound around the world. The band would eventually split in 2000, but were compelled to return to the stage in 2008 with a reunion of the original line-up.
Since then there have been a number of line-up changes, but with the release of Jukebox Fury in 2013 the band have proved that they remain a potent if subtle force in the world of alternative rock. The band have also retained their reputation as an exciting live band, and if you haven't yet seen them live then you should certainly get yourself to The Godfathers Concert at the earliest opportunity.
Long after the first wave of UK punk had waned and drifted out of view, the emergence of The Godfathers on the scene in South London in the mid-eighties was a potent antidote to the growing pervasiveness of commercialised over-produced pop and rock-lite that characterised much of the decade. Today, the band continue to do things their own way on-stage and off, with PennyBlackMusic.co.uk finding that, "Jukebox Fury' finds the Godfathers nearly 30 years on since first forming having lost none of their edge or anger and also roaring to new heights."
See for yourself how the band today compare to their heyday, by snapping up The Godfathers tickets from Gigantic.
---
Buy Tickets With Confidence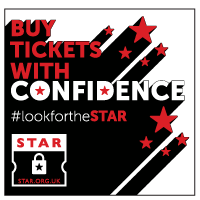 Gigantic are a primary ticket agent and full members of STAR (Secure Tickets from Authorised Retailers)
More info