Liverpool based singer/songwriter Natalie McCool has just announced a headline UK tour which includes a stop at The Waiting Room in London on 28th September.
"Quickly buries itself under your skin with its mechanically brushed drums and jazz-inflected pangs of lovesick fragility."
Q
"Mesmerising lilt-pop gem."
The Sunday Times
"Sure to cement McCool's status as one of the country's most promising songwriters."
The 405
Having risen through the ranks of the UK indie world, championed by pop stars and indie icons and collaborated with Suede legend Bernard Butler on her stunning 2013 self-titled album, the inimitable Natalie McCool has announced a full band tour this Autumn.
McCool's breed of slick alternative pop has won acclaim from tastemakers including The Sunday Times, Q, Clash, Line of Best Fit and the 405, as well as Huw Stephens and Alice Levine, while BBC Introducing described the edgy artist as "one of the finest emerging songwriters around".
The singer-songwriter's brilliant debut was built on a foundation of deliciously dark, gloomy indie-pop, but 'Fortress' is an awakening -emerging from the shadows and rising victoriously. Produced by Rich Turvey (Blossoms, Clean Cut Kit, VITAMIN), 'Fortress' swells and shimmers, culminating in a jubilant cascading crescendo, McCool's rich, rousing lead vocals soaring across an epic backdrop.
Alongside playing more established venues (detailed below), Natalie has recruited fans from her facebook page for her bedroom tour - envisioned to reflect the themes of the new single with Natalie intending to 'build a fortress with fans.' As she explains;
"For the release of Fortress I really wanted to do something that would embody the song and the message of the song. "Let's build a fortress" is the strongest line for me and I decided to take this out to fans, to put together a very intimate set of gigs where instead of being on a stage in a venue which can sometimes be quite formal and indirect. I really wanted to be able to see everyone in the audience and be literally at arms length from people who connect through music, to be able to fully engage and have them involved as part of the whole set. The phrase "let's build a fortress" being everyone in the room altogether, not just watching the show but being a part of the whole process, a real community feeling"
At each show Natalie will record her audience singing along to the track and then compile the vocals as a 'Fortress of fans' on a collated version of the track, resulting in a huge crescendo of voices, with every fan appearing on the final version
---
Buy Tickets With Confidence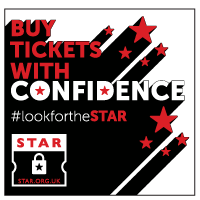 Gigantic are a primary ticket agent and full members of STAR (Secure Tickets from Authorised Retailers)
More info