Lukas Graham is the massive R&B influenced pop sensation. The band draw on elements of hip hop and folk and is currently winning the entire world over.
The band centres around the singer Lukas Graham Forchhammer who grew up in the idyllic region of Christiania. The area has declared itself autonomous to the rest of Copenhagen and is known as a bohemian neighbourhood where culture and creativity flourishes. Growing up in such an artistic community certainly encouraged and stimulated Forchhammer talents.
Taking the role of lead singer, Forchhammer is joined by drummer Mark Falgren, Kasper Duagaard on keys and with Magnus Larsson playing bass to complete the band.
First stating in 2011, they made their bid for notoriety through uploading DIY videos of their songs Drunk In The Morning and Criminal Mind. The daring bid worked as the videos grabbed the attention of Copenhagen Records and earned them a contract with the label. By the end of 2012 Lukas Graham had played 107 concerts right across Europe, selling 40,000 tickets in their home country of Denmark alone. The year also saw the release of their self-titled debut album which sold 80,000 copies in 2012 and would go on to be certified Platinum five times in Denmark. They would sell 150,000 singles and see their YouTube videos streamed an amazing 27 million times.
Their second album was released in 2015 and is also eponymously titled, although it is nicknamed the Blue Album by fans, and hit #1 in the Denmark Album Charts. The record contained the songs Mama Said, Strip No More and the massive hit 7 Years which soared to #1 on the singles chart right across Europe including Denmark, Belgium, Sweden, Austria, Italy and more. The music video has now been watched over 50 million times on YouTube and has been streamed over 225 million times.
Lukas Graham will be playing at V Festival taking place on Saturday 20th and Sunday 21st of August. Get your festival tickets online through Gigantic.
Concert tickets will go on sale at 09:00 on Friday 17th of June. You can set a reminder using Gigantic.com to ensure you don't miss out.
Touring in March of 2017, Graham will play at O2 Academy Newcastle, Manchester Academy, O2 Academy Leeds, O2 Academy Birmingham and Roundhouse at London.
---
Related News
Buy Tickets With Confidence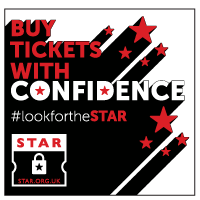 Gigantic are a primary ticket agent and full members of STAR (Secure Tickets from Authorised Retailers)
More info