The rise of Har Mar Superstar is unstoppable. A pioneer who takes cool to the next level. His performances are a showcase of wild sexual abandon driving all in attendance into a frenzy. The beats are bold, the dance moves hot and oozing style. Har Mar is often accompanied by a troupe of dancers while he himself strides across the stage like a panther. Such a performances are not without controversy and are not for the faint hearted. In 2002 he was slapped with an allegation of public lewdness!
Sean Tillman first started off playing in various garage bands before joining Calvin Krime on lead vocals and bass. Sean went on to experiment with R&B, Hip Hop and pop which culminated in the project Sean Naa Naa. These shows were small, sweaty and frequently semi naked.
Sean stripped down from a full band to live vocals and pre-recorded tracks on a MiniDisc player and thus Har Mar Superstar was born. His wild and sexually provocative shows have become stuff of legend, leading to support slots for Red Hot Chilli Peppers, The Strokes, Yeah Yeah Yeahs and Tenacious D.
His meteoric rise has seen Har Mar on TV, film and become the face of Vladivar vodka. All of which has led to Mayor of Minneapolis to declare 20th March, 2013 to be officially "Har Mar Superstar Day".
His upcoming shows promise to be a masterclass in his own unique stage prowess. Currently tour new album "Best Summer Ever" is released on Cult Records. It features the song "Youth Without Love" which was written by frontman of The Strokes and label founder; Julian Casablancas.
Har Mar Superstar is not to be missed so make sure you get down to Thekla in Bristol on Sunday 5th June and The Hope And Ruin in Brighton on Monday 6th of June.
Get your tickets online through Gigantic now before they are all gone!
---
Buy Tickets With Confidence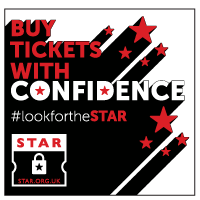 Gigantic are a primary ticket agent and full members of STAR (Secure Tickets from Authorised Retailers)
More info