Punk pranksters Gaye Bykers On Acid were founders of eighties subculture Grebo. Combing thrash metal with dance music and hip hop, the band are highly innovative. Their music drew ideas from the wild excesses of sixties counterculture, being both psycadalic and aggressive.
The band was first formed in Leicester during 1988 by Ian Reynolds, nicknamed Robber, and Ian Hoxley who is otherwise known as Mary. The pair were later joined by Tony Horsfall and Kevin Hyde.
The bands recorded EPs Everythang's Groovy and Nosedive Karma with Jon Langford of The Mekons which were released through the InTape label.
The inventive pranksters signed to Virgin Records before releasing their debut album Drill Your Own Hole. The record was purposefully pressed without an inner hole leaving no room for the inner spindle forcing their fans to literally drill their own hole before being able to listen to the record. They would also release Stewed To The Gills through Virgin.
The band also worked under different pseudonyms and performed under the guise of an East German thrash band called Rektüm who had alledgeily jumped the Berlin Wall. They also played the support slot for themselves under the name Lesbian Dopeheads on Mopeds whilst wearing women's clothes, meaning they were able to be paid twice for the same gig.
To date the have released ten studio albums (including their work released under the name of their alter egos). Returning after a long term hiatus, get ready for more insanity.
Gaye Bykers On Acid tickets can be bought through Gigantic.
See them headline The Globe in Cardiff on Tuesday 27th of September.
Concert tickets are available online right now. Make sure you get your before they're gone.
---
Buy Tickets With Confidence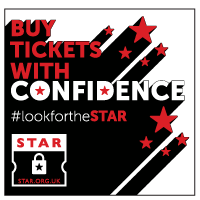 Gigantic are a primary ticket agent and full members of STAR (Secure Tickets from Authorised Retailers)
More info