Finnish rockers Daniel Lioneye are an essential heavy metal band that everyone needs to hear. The band members include drummer Seppo Tarvainen, Mikko Linde Lindström providing vocals and guitar with keys from Burton plus Mige playing on bass. They have returned this summer with their brand new album Vol. III.
The band was first formed by Linde Lindström as a means of de-stressing. The group hit the studio with only three pre-written songs as the material was purely for experimental purposes with no intent of releasing it. However, the sessions continued to expand and resulted in the release of debut album The King Of Rock 'n Roll in 2001. The title track single would become the second most played Finnish song in the entire world during 2006. They followed up with their 2010 album release Vol. II.
Now they return in 2016 with their latest offering; Vol. III. Containing the single Ravensong, the album makes good on their promise to up the fuzz pedals and singing rather than growling. The new release has been welcomed by critics and fans with most agreeing it is their best work yet.
Daniel Lioneye tickets will soon be available through Gigantic. Launched at 10:00 on Tuesday 30th of August, you can set a personal reminder to be ready for their launch to arrive through text message or email.
The December tour takes him to The Slade Rooms at Wolverhampton, legendary Nottingham venue Rock City, Satans Hollow at Manchester, vibrant Brisol's Thekla and The Borderline in London.
Demiand for these limited gig tickets is high so book early to avoid disappointment.
---
Buy Tickets With Confidence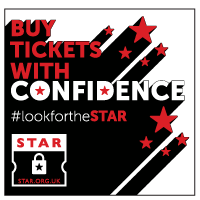 Gigantic are a primary ticket agent and full members of STAR (Secure Tickets from Authorised Retailers)
More info