Vangoffey may not be a name that's familiar to the majority of music fans, but mention names like 'Supergrass' and 'Babyshambles' and we're on firmer ground. Vangoffey is Supergrass and Babyshambles drummer Danny Goffey's project band, started back in 2006. Now back and touring, Vangoffey hits a number of venues up and down the country this year, and fortunately at Gigantic we've managed to get hold of Vangoffey concert tickets for many of the band's dates.
The Vangoffey tour dates kick off on September 17th at the Rescue Rooms in Nottingham, before heading on to Colchester Arts Centre on the 18th, Brighton Concorde 2 on the 20th and the Wedgewood Rooms in Portsmouth on the 21st. The band finishes off their mini tour in Bristol's Fleece venue on the 22nd. Because of the limited number of dates, we're expecting demand for Vangoffey tickets to be high, so grab yours while you can.
Danny Goffey's solo project (a bastardisation of his own name and that of artist Van Gogh) started in 2006, using the social media site MySpace to introduce his unique brand of Britfunk to the world. Goffey's incredibly busy schedule means that he splits his time between various projects including Vangoffey. Relaunched in 2015, Vangoffey is now regarded as Goffey's main musical project. The sound is distinctly funky (which seems to be the signature sound for 2015), which means it's accessible and easy to like, even if you're not a Babyshambles or Supergrass fan. Guitars are at the heart of the sound, the tempo is upbeat and the sound has a definite nod to the Britpop of old, refreshed and revived with funky undertones.
His style is bright, upbeat and incredibly positive, and Vangoffey's tunes are catchy numbers that encourage audiences to sing along. The band enjoys playing smaller, more intimate venues, as Danny puts a high value on feeling connected to his audience above all else. Vangoffey have only played a few gigs since their relaunch, but each one has been greeted with enthusiasm and sparkling reviews. If you want to find out for yourself what Vangoffey is all about, grab yourself some Vangoffey tickets now from Gigantic.
---
Buy Tickets With Confidence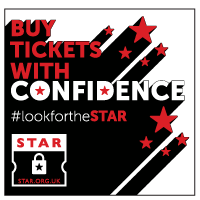 Gigantic are a primary ticket agent and full members of STAR (Secure Tickets from Authorised Retailers)
More info