The incredible Swedish stoner rockers Truckfighters are returning to the UK. Each member of the band has their own unique nickname. And so it contains drummer El Danno (Daniel Isrealsson), guitarist Dango (Niklas Källgren) with Ozo (Oskar Cedermalm) providing vocals and playing bass.
The band formed in Örebro during 2001 and immediately set about recording, releasing two EPs over subsequent years and a further third split EP with local band Firestone which came out in 2003. Taking inspiration from the psychedelic American West Coast guitar sound, the band made a name for themselves by sounding unlike anyone else in their nearby vicinity.
"
We have the exact opposite weather and landscape to California, but there is a wilderness there, so I think we share something with people who make music in desert landscapes: we both do it in places where there aren't many people around. Maybe that's why we can tap into those sounds. You can create big empty spaces in music whether you are in the California desert or whether you are in Sweden.
" -
Dango
The band have also release a whole host of fantastic LPs including their 2005 debut Gravity X, the amazing 2007 follow up Phi and their latest album entitled Universe which was released in 2014.
"
The best band that's ever existed
" -
Josh Homme of Queens Of The Stone Age, Kyuss
"
Truckfighters blast your ears with their unique take on modern rock
" -
Metal Hammer
"
…The power and charm to make society grind to a halt…
" -
Kerrang!!!
"
Putting more rock energy into a single performance than a good proportion of bands do into a career's worth of shows…
" -
Terrorizer
Truckfighters tickets can soon be yours. Set a personal reminder to arrive to you via email or text message through Gigantic so you are ready for their launch. Their tickets become available at 10:00 on Friday 19th of August.
Touring in December, they will play at cool Nottingham club Rescue Rooms, Thekla in cultural vibrant hub Bristol and Manchester's Ruby Lounge.
Their gig tickets are very limited so book early or run the risk of missing out!
---
Buy Tickets With Confidence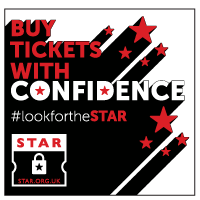 Gigantic are a primary ticket agent and full members of STAR (Secure Tickets from Authorised Retailers)
More info