Silversun Pickups are the band for people that love alternative rock. Using massively distorted guitars with electronic elements they write truly enigmatic and exciting music with real heart. They are currently comprised of drummer Chris Guanlao, Joe Lester providing Keys, singer Brian Aubert playing guitar and Nikki Monninger on bass.
The Los Angeles band began by playing around the clubs in 2002 that include Silverlake Lounge and Spaceland. Allegedly, there name is not a pun on the guitar parts with the same name but an in joke for collecting booze from a late night store. A silversun pickup is meant to be more than just picking up drinks but is a state of mind.
Their first release was the 2005 EP Pikul, pronounced "Pickle" and takes its title from the nickname of a friend in tribute after their death. It was followed by their debut album Canvas which came out in 2006. The record has sold more than 350,000 thanks in no small measure to the fantastic singles Well Thought Out Twinkles, Little Lover's So Polite and Lazy Eye.
Their next album was recorded in their own studio which they call The Dark. Named Swoon, it sold 43,000 copies upon the first week of release in 2009. This was followed by the superb 2012 record Neck Of The Woods. Their latest record entitled Better Nature came out in 2015.
The album features the single Nightlight which was decaled by Absolute Punk to be "
one of the most deliriously catchy and undeniably immediate songs Silversun has made in their careers
."
Silversun Pickups tickets will be available from 10:00 on Wednesday 22nd of June. Be sure to set a reminder using Gigantic.com so you don't miss out.
They will be playing at O2 Institute2 Birmingham, Manchester Club Academy, Electric Ballroom in London and Bristol's Thekla this November.
As gig tickets are always limited we advise that you book early to avoid disappointment.
---
Buy Tickets With Confidence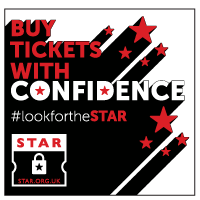 Gigantic are a primary ticket agent and full members of STAR (Secure Tickets from Authorised Retailers)
More info