Hard rockers Scorpion Child take seventies krautrock and psychedelic rock and push it forward with modern metal sounds and techniques.
The band has undergone changes and now includes drummer Jon 'The Charn' Rice, lead guitarist Christopher Jay Cowart, keys from Aaron John 'AJ' Vincent, Aryn Jonathan Black providing vocals and Alec Caballero on bass.
The Texan band signed to seminal German metal label Nuclear Blast and released their self-titled debut album in 2013. The record Scorpion Child was produced by Grammy nominated Chris 'Frenchie' Smith and saw them nominated Best New Band by Classic Rock Magazine.
They have just released their second album Acid Roulette, also through Nuclear Blast. The concept behind the record is the story of a travelling man who is imprisoned for murder.
"He was forced into confessing by his wife and her wealthy lover so that they could live out their romance without him in the picture. Once sentenced to a life's term, he goes through extreme emotions dealing with the only woman he'd ever loved taking everything he'd known as "real" away from him. He has to create and redefine his own reality accompanied by its roller coaster of emotional reflection. He experiences many different psychological changes throughout the years and escapes by means of drugs and his writings. These songs become his diary of a madman. The focus is mainly on the seasons in a year, for each song represents a month. The songs exist to drive home the full power of human emotion as many albums do, however, Acid Roulette wires us into those extremes."
-
Aryn Jonathan Black
Scorpion Child tickets are on sale through Gigantic. Get yours right now!
Their November tour takes them to The Live Rooms at Chester, Rainbow Courtyard at Birmingham and Norwich Waterfront Studio.
Concert tickets are already running low so book early to avoid being disappointed.
---
Buy Tickets With Confidence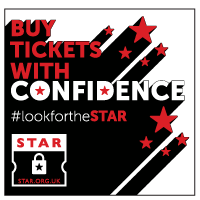 Gigantic are a primary ticket agent and full members of STAR (Secure Tickets from Authorised Retailers)
More info