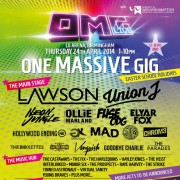 OMG Live Tickets
FUSE ODG, Elyar Fox and Neon Jungle join Lawson & Union J at the UK's only under-18's music festival OMG Live the UK's first under-18's music festival... Read more arrives this Easter in Birmingham.

Storming the current charts and hitting the LG Arena stage in April will be FUSE ODG, Neon Jungle and Elyar Fox. All three acts have enjoyed massive top ten hits this year and look set to dominate the charts in 2014 fulfilling OMG Live's
promise to present the biggest and best talent in one major event.

A mammoth 9 hours of live entertainment will include headline sets from Lawson, Union J and the hottest new acts including GraciousK, The Boxettes, The Parades, Chrom3 and two of Birmingham's own: the much-loved Electric Swing Circus and famed street-dance troupe Antics.

Newly added to the bill are Anglo-American band Hollywood Ending, fresh from touring Japan, Canada and the US, OMG Live will be their biggest ever gig in the UK. Former Port Vale player Ollie Marland joins OMG Live ahead of playing Hyde Park with McBusted; the UK's two most exciting new girl bands Goodbye Charlie and Vanquish will also be appearing along with teen boy band M.A.D. whose members come from all corners of the UK.

In all over 30 bands will appear across three stages in the LG Arena and Forum Live on April 24th.

The fun starts at 1pm and rampages right through till 10 with the coolest DJs from a selection of the Midlands' top clubs, the brightest and newest talent from schools and colleges across the region and the best live entertainers on offer.
OMG Live is a ground-breaking prospect that brings the festival atmosphere indoors for a younger audience. Strictly restricted to the secondary school and sixth form age group it offers a safe alcohol and smoke-free environment where like-minded live-music-lovers can party with unbridled freedom.

With five top ten singles under their belt Lawson has toured relentlessly playing in front of tens of thousands of fans all over the world. The band's hard work was rewarded last year when their debut album, Chapman Square, hit the top five and was certified gold. Union J emerged from the shadow of the X Factor with two top ten singles and a top ten album. The band has started work on a second album and may preview new songs at OMG Live.
Organisers are currently putting the finishing touches to the remainder of the bill and with many major acts to be added it promises to be one of the most spectacular pop line-ups ever seen at the LG Arena. Followers of the official twitter account @omgliveuk will find out all the information first.
OMG Live features three live areas including the Music Hub which will play host to 15 of the most exciting new acts chosen from Midland's secondary schools and sixth form colleges in a unique partnership with The University of Wolverhampton and The West Midland Music Education Hubs supported by The Arts Council.
Tickets are now on-sale for this pop extravaganza, the first festival of its kind. It promises to be a monster day out.

OMG Live LG Arena and Forum Live, Birmingham
24th April 1pm — 10pm
Lawson, Union J, FUSE ODG, Neon Jungle, Elyar Fox,
GraciousK, The Boxettes, The Parades, Chrom3, Ollie Marland, Antics,
Hollywood Ending, Electric Swing Circus, Goodbye Charlie, Vanquish, M.A.D.
Dates and Tickets for OMG Live
Sorry we currently have no dates available for OMG Live.
© 2016 Gigantic Tickets Limited. All rights reserved.