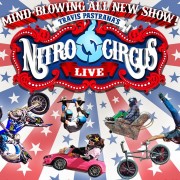 Nitro Circus Tickets
Nitro Circus has announced details for its greatest ever all-new show coming to 13 European cities in 2016. The tour will play three U.K. shows: First... Read more at Manchester Arena on 2 February, followed by a 4 February stop at Glasgow's SSE Hydro Arena before a London show 6 February at The O2 Arena.

Nitro Circus Live's latest creation takes things to a whole new level, as the best athletes in freestyle motocross (FMX), BMX, skate and more unite for a spectacular all-new production. Starring 17-time X Games medalist Travis Pastrana, the tour will feature unbelievable new tricks, record-breaking feats, insane stunts and the craziest contraptions ever, plus a whole new repertoire of daredevil fun.

"We've had a blast touring the world this year and can't wait to bring this all-new tour to Europe," says Pastrana. "With each show everyone is pushing one another to go faster and jump farther than the night before. By 2016 it's going to be unbelievable! Plus, this stage set is so over the top. Fans will be blown away.""

Pastrana will lead an elite team of athletes showcasing a star-studded FMX line up that includes the world's first triplebackflipper and reigning X Fighters champion Josh Sheehan, Australian X Games gold medalists Blake "Bilko" Williams and Cam Sinclair plus American superstar Adam Jones. On the BMX side, show attendees can expect to experience a cavalcade of never before seen madness led by James Foster, the only person currently performing the BMX triple backflip, plus a host of other big names including "The Warrior" Jed Mildon, X Games medalist Andy Buckworth, and plenty more. Fans can also look forward to seeing Jolene Van Vugt, the most daring woman in action sports, and groundbreaking wheelchair motocross (WCMX) star Aaron "Wheelz" Fotheringham. With this star-studded lineup, combined with a host of outrageous new contraptions launched from the jacked-up, bigger than ever Nitro Gigant-A-Ramp, this is truly a visual experience never seen before.

To top it all off, for its latest event Nitro is going really retro, with the entire performance choreographed and styled as a 1920's three-ring circus featuring elephants, bears, clowns, trapeze artists, flame throwers, lion tamers and much more. Painstakingly developed over the past five years, this stunning new set and Nitro-composed soundtrack will transport you into the past, to an eerily haunting, abandoned, derelict Big Top. With mind-blowing new lighting and an explosive pyrotechnic display, the new theme provides the perfect backdrop for the most spectacular show in Nitro's history. "Believe us when we say, you have never seen a circus like this before," says Pastrana.

Dates and Tickets for Nitro Circus
© 2015 Gigantic Tickets Limited. All rights reserved.