2014 marks fifteen years since the release of Mos Def's critically acclaimed album, 'Black On Both Sides'. To celebrate this milestone Yasiin Bey will be performing the underground masterpiece in it's entirely plus a whole host of his classic hits at The Forum in London on Saturday 22nd November.
Released after the successful collaborative album 'Mos Def + Talib Kweli are Black Star',which raised expectations for a solo effort, 'Black on Both sides' features legendary hip hop pioneers DJ Pioneer, Diamond D, A Tribe Called Quest's Ali Shaheed Muhammad + The Beatnuts to name a few and momentous tracks Mathematics, Umi Said and Miss Fat Booty.
Praise for 'Black on Both Sides':
-'Like a more street Michael Franti, Mos Def takes a broad platter of complex issues and weaves them into thought-provoking rhymes. Unlike Franti, the raw hip-hop Mos raps over (an inspired, idiosyncratic melange of Native Tongues jazz-hop, '80s soul synths and scuzzy beats) should see him preaching to more than just the converted.'
-NME on Black On Both Sides
'Black on Both Sides' is the debut album of US rapper Mos Def AKA Yasiin Bey, released in October, 1999 on Rawkus Records. An album which features an emphasis on live instrumentation and socially conscious lyrics from an artists that soon became one of the most influential artists of our generation. In 2000, the album was certified Gold in sales by the Recording Industry Association of America.
-'when the beat drops and Def starts spitting his meticulously- crafted lyrics, you realize it's entirely possible that he truly is prophetic' - Pitchfork
A rare full album performance plus many of the Mos Def classics LIVE, not to mention a host of extremely special guests, makes this one hot ticket.
Book your tickets for Mos Def below with Gigantic and make sure you don't miss out.
---
Buy Tickets With Confidence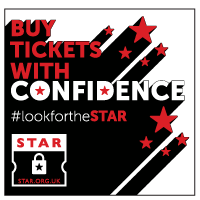 Gigantic are a primary ticket agent and full members of STAR (Secure Tickets from Authorised Retailers)
More info