Activist, poet, rapper and guitarist; Michael Franti is a true force to be reckoned with. His music centres around political activism and draws on influences ranging from hip hop to folk, rock, soul and jazz.
Franti's beginnings started with the industrial punk and spoken word band The Beatnigs. Forming the band whilst a student at University of San Francisco in 1986, the band were signed to Jello Biafra's label Alternative Tentacles and released a self-titled album and the EP Television.
He moved on to create the hip hop band The Disposable Heroes Of Hiphoprisy with Beatnigs member Ron Tse. Taking inspiration from socialist literature for their name, their music would typically blend hip hop with jazz with overt political challenges to injustice, homophobia, racism and media bias. In 1993 they worked on the collaborative album Spare Ass Annie and Other Tales with avant-garde novelist William S. Burroughs who recited his work over their music.
Ever creative, the inspirational Franti formed Spearhead in 1994 when The Disposable Heroes Of Hiphoprisy came to an end. The band marked a change in his style and sound as he moved away from overtly challenging political rap and began to explore funk and jazz.
Their debut album Home was released in 1994 and included the single Hole In The Bucket. The song was a massive hit and became an MTV Buzz Bin Song and also won a Clio Award. After some changes in the line-up, second album Chocolate Sup Highway was released in 1997 and saw Franti draw back on hip hop influences.
Franti and Spearhead resisted their labels attempts to commercialise their sound by creating their own label Boo Boo Wax which prompted all subsequent releases to be under the name Michael Franti & Spearhead.
To date they have released nine studio albums including their brand new album Soulrocker.
Michael Franti tickets will become available online at 10:00 on Friday 17th of June. Set yourself a reminder through Gigantic.com so you don't miss out.
See him play this October at Academy 2 in Manchester, SWX at Bristol and London's Heaven.
Concert tickets are always limited so make sure you book early to avoid disappointment.
---
Buy Tickets With Confidence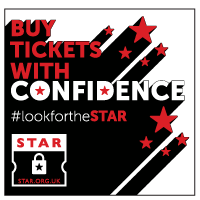 Gigantic are a primary ticket agent and full members of STAR (Secure Tickets from Authorised Retailers)
More info