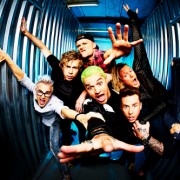 McBusted Tickets
McBusted, a synergy of McFly and Busted, first came to be at the end of 2013 after the astonishing success of their brief reunion at the Royal Albert ... Read moreHall on the occasion of McFly's tenth anniversary concert. From the incredible reaction they received from the audiences, they decided to combine forces to create a super group. Originally announcing a run of 11 arena dates, these quickly turned to 34 to feed the demand of fans and the general public excited to see the two bands perform their hits together. The tour was the UK's largest arena stint of last year, and saw the band play to a staggering 350,000 people, culminating in a show stopping headline performance at Hyde Park to 60,000.
Following the phenomenal success of the tour they released their self-titled 'McBusted' album at the end of last year, whereby it jumped straight in to the UK Top 10. Together McFly and Busted have sold over 15 million records worldwide and chalked up 14 number ones, 20 top 3 singles and 27 top ten singles. Expect to witness a shamelessly nostalgic set featuring hit after hit from the bands vast back catalogue including 'Year 3000', 'Crashed The Wedding', 'All About You' and 'Five Colours In Her Hair' alongside McBusted's own tracks 'Air Guitar' and 'Get Over It'.

Dates and Tickets for McBusted
Sorry we currently have no dates available for McBusted.
© 2016 Gigantic Tickets Limited. All rights reserved.