Double BBC Radio 2 Folk Award nominees Josienne Clarke and Ben Walker infuse ageless stories of love and loss with their exquisite command of many instruments.
Whether interpreting words centuries old or singing her own authentic lyrics, Josienne's jewel-like voice finds the nuance in the simplest phrase and sends it, effortlessly, straight to your heart. Ben's musical tact and flair for arrangement provide the perfect setting, allowing the song centre-stage.
They met in July 2009 and together they have resolutely forged their own path through traditional music.
The live performance is a thing of delight - enchanted reviewers have spoken of shimmering cathedrals of sound - and its purity will stay with you long after the last note fades
Critical recognition soon followed, along with the Isambard Folk Award, and the FATEA Award for Best Album and Female Vocalist of the Year, and the Spiral Award for Best Duo.
In 2013 their debut release on Navigator Records - Fire and Fortune - reached No.1 on the Amazon folk chart within three months, garnered rave reviews and a constellation of stars across the board, and brought them coveted BBC Radio 2 Folk Award nominations for Best Newcomers and Best Duo in 2014.
Josienne Clarke and Ben Walker's next album Nothing Can Bring Back the Hour is one of the most anticipated releases of the year.
---
Buy Tickets With Confidence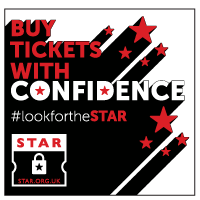 Gigantic are a primary ticket agent and full members of STAR (Secure Tickets from Authorised Retailers)
More info