Californian band Augustana are ready to rock the UK. They have released five albums and their smash hit single Boston.
The band was started during Autumn of 2002 in San Diego by Dan Layus and initially began by re-working his solo material. In 2003 they recorded and released their independent album Midwest Skies And Sleepless Mondays. Producing only 1000 copies, the album still caught audiences' attention and started creating a name for themselves. The album was followed by the EP titled Mayfield.
After playing support with a large number of impressive names including Goo Goo Dolls, Maroon 5, Snow Patrol and Counting Crows they signed to major label Epic Records. Their first release under the label was the album All The Stars And Boulevards in 2005 and saw the band hit #1 on the Billboard Top Heatseekers chart with many shops and online stores selling out of copies.
The album featured their massive single Boston which rose to #34 on the Billboard Top 100 and has been used in various television programmes including Scrubs, Smallville, One Tree Hill and The Big Bang Theory.
The band's other records include 2008's Can't Love, Can't Hurt, the self-titled album Augustana released in 2011 and Life Imitating Life which came out in 2014.
Augustana tickets will be available through Gigantic from 09:00 on Friday 17th of June. You can book an online reminder through Gigantic.com so you don't miss out.
Be sure to check out the October tour which stops at The Haunt in Brighton, Scala London, Nottingham's Bodega Social, Thekla in Bristol and The Deaf Institute at Manchester.
Always book concert tickets early to avoid disappointment.
---
Buy Tickets With Confidence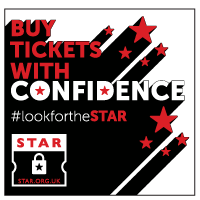 Gigantic are a primary ticket agent and full members of STAR (Secure Tickets from Authorised Retailers)
More info